About Export Control
Last Updated: June 24, 2022 4:20:36 PM PDT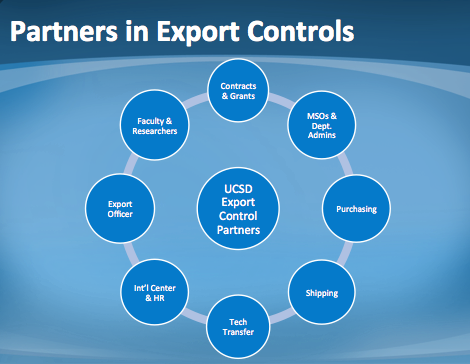 Learn about the UC San Diego Export Control team and services.
UC San Diego Departmental Export Control Responsibilities (PDF)
Export Control identifies and manages export risks and provides export licenses in support of the research activities of university faculty, staff, and students.
The duties of the Export Control Office are to:
Determine whether the activity is subject to U.S. jurisdiction
Classify the technology or goods involved (e.g., subject to ITAR, EAR, or other controls)
Work with researchers to develop Technology Control Plans
Determine whether any embargoes apply or whether any prohibited parties or destinations are involved
Determine if a license is needed for the particular technology and particular end-use and end-user
Determine if any license exemptions or exceptions are available (e.g., public domain, fundamental research, etc.)
Determine if a license is required, and if so apply promptly and keep records
Provide customized training on various export control topics
Michael Miller
Michael Miller is Export Control Officer for the University of California, San Diego. His office is responsible for university-wide export operations. Mike previously worked for 10 years in international trade compliance in the defense industry. Mr. Miller previously worked for the University of Central Florida and University of Colorado, Boulder. Mr. Miller currently serves on the Defense Trade Advisory Group (DTAG) to the U.S. Department of State, Bureau of Political-Military Affairs and has authored several export control training modules for the Collaborative Institutional Training Initiative (CITI) and journal articles focusing on export control issues in higher education.
Eric Dean
Eric Dean is the Export Control Analyst/FSO for the University of California, San Diego.  Mr. Dean is a decorated former FBI official with more than 25 years of law enforcement, national security, executive management, and corporate experience. Mr. Dean possesses Joint Duty Certification awarded by the Office of the Director of National Intelligence (ODNI) in recognition of success achieved on FBI assignments overseas.  Mr. Dean has received 28 meritorious service awards presented by the FBI, DoD, and other U.S. Intelligence Community organizations.  Honorably retired from the FBI, Mr. Dean is a licensed private investigator and an FAA certified Commercial Drone Pilot.  Mr. Dean believes his growth mindset and eagerness to take on new and complex challenges have been key to his success.
Ashley Rubio
Ashley Rubio is the Export Analyst and Assistant FSO for UC San Diego. Ashley graduated with her BA in English from San Diego State University. While studying for her undergrad, she worked for a biology lab and grants which supported first generation and underrepresented students. Her interest in research compliance for higher universities brought her to work for SDSU's Research Affairs Office for over 6 years focusing on Financial Conflict of Interest and Responsible Conduct of Research. She also lead programs and events that promoted and helped advance student research.
Ivan Hernandez
Ivan Hernandez is an Export Analyst for UC San Diego. Ivan has worked for UC San Diego's Department of Linguistics as a Language Instructor, teaching Spanish language and a specialized course in Spanish for the Health Sciences. He has also worked in the legal and finance fields. Ivan holds degrees in law from UC Berkeley School of Law, Health Law & Policy from UC San Diego, and Bioethics from Columbia University. He has a passion for issues at the crux of law and ethics, healthcare, human rights, and public policy.   
Christina Continelli
Christina Continelli is an Export Control Analyst for UC San Diego. Before being brought on as an analyst, she supported both Export Control and Conflict of Interest as an administrative assistant, and prior to that spent six years at UC San Diego's Geisel Library, also in a support capacity, for Communications, Development, and Enterprise Services. Christina graduated with her BA in History from San Francisco State, and earned her MFA in poetry from California College of the Arts.