Respiratory Protection Program
Respiratory Protection Program
Last Updated: October 2, 2020 2:29:37 PM PDT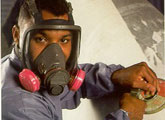 Learn about UC San Diego's respiratory protection program and how to get a respirator.
COVID-19 Update
The nation is currently facing a critical shortage of respirator supplies along with other types of personal protective equipment (PPE). Departments who have employees using respirators as part of personal protective equipment should limit the use of designated essential activities only.

In accordance with state and federal regulations, UC San Diego - EH&S is currently providing limited respirator certification services during this time. Additional safeguards and precautions are implemented to ensure the safety of both the program administrator and the customer during this process. Please continue to check back with this page for regular updates or send an email to ehsih@ucsd.edu to request more information.

Current updates (Last updated 4/9/2020)
Annual respirator fit testing for N95-respirators (filtering facepiece respirators) are temporarily suspended to conserve limited stock of supplies. Respirator users shall continue to wear the same type and model respirator they have been successfully fit tested for within the previous year.
Annual respirator fit testing for half-face and full-face respirators are expected to continue as usual if the employee is continuing to use the respirator to perform essential work activities. If the employee is not currently performing work that necessitates the use of the respirator, annual recertification shall be temporarily suspended.
Initial respirator use requests must be reviewed and approved by EH&S before an employee can use a respirator as personal protective equipment. To request respirator use evaluation for work, submit your request to EH&S using this form.
A respirator, or air-filtering face piece, is designed to specifically filter out hazards that may enter the body through the nose and mouth when a person breathes. The UC San Diego Respiratory Protection Program (RPP) ensures employees who use respirators understand their capabilities and limitations.
Requirement for supervisors
Supervisors are required to assess the workplace to determine if hazards are present or likely to be present that necessitate the use of PPE, provide employees with appropriate PPE and training, and require them to use and maintain it.
A respirator may at times be required to protect the health of employees when the work environment is contaminated with materials that are hazardous to breathe. At UC San Diego, this may include:
Employees who enter confined spaces
Paint sprayers
Pesticide and fertilizer applicators
Hazardous materials handlers
Some researchers
Asbestos abatement employees
Some art studio employees
Employees whose exposure level is at or above the Permissible Exposure Limit (PEL) of the contaminant
If a respirator may be necessary for your workplace, see How to Get a Respirator.
Certification
Use of respirators is strictly regulated in California. Employees who are required to wear a respirator or filtering facepiece during work activities must first be certified through the Respiratory Protection Program administered by Environment, Health & Safety (EH&S).
Certification must be completed annually when there is a requirement to use any of the following types of respirators:

Certification includes initial and annual:
Facepieces and filters are issued specifically for the type of materials or atmosphere the employee may encounter.
Costs
The cost of respirator certification and respiratory protection supplies provided by EH&S is the responsibility of the department or laboratory and is completed through the recharge process.
Voluntary use of N-95 filtering facepieces
When no workplace hazard is identified that requires respiratory protection, an individual may choose to wear an N-95 mask for personal or comfort reasons.
Cal/OSHA encourages voluntary users of N-95 filtering facepieces to review Appendix D, Section 5144 of the California Respiratory Protective Equipment standard. UC San Diegoencourages these employees to follow standard operating procedures developed for voluntary users.
Regulations and policies