Eye and Face Protection
Last Updated: January 26, 2021 1:25:59 PM PST
Find out how eye and face protection can guard you in the event of an accident.
Requirement for supervisors
Supervisors are required to assess the workplace to determine if hazards are present or likely to be present that necessitate the use of PPE, provide employees with appropriate PPE and training, and require them to use and maintain it.
Determining the hazard
Eye and face protection must be appropriate for the type of work being performed. 
Consult the

 

Eye-Face Protection

 

chart (PDF) to help determine appropriate eye protection for the task.
Types of protective eyewear
Different types of eyewear guard against different types of hazards. Choose the correct face and/or eyewear (purchase available in Oracle) for your work environment: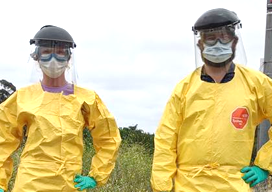 Face shields are used for protection from various hazards. Face shields come in different forms, but all provide a clear plastic barrier that covers the face. In cases of pathogens, face shields can protect from splashes and sprays of body fluids. Some face shields are made of impact-resistant material that protects users from flying fragments, explosions, etc. It is recommended that users wear safety spectacles under the face shield so that eyes remain protected when the face shield is in the raised position.
Consult the Eye-Face Protection chart (PDF) to determine if a face shield is required for your hazard assessment.
Types of Face Shields
High-Impact Face Shield

Rated by ANSI Z87.1
Face shield used as protection against impacts and splashes
Use face shields in extremely hazardous situations (including exposure to large quantities of hazardous material, or UV-B or UV-C ultraviolet light).
Typically used in conjunction with safety glasses or goggles to provide full protection

'Plastic Barrier' Face Shields

Shield with transparent sheets of plastic, which can be used to prevent exposure to chemicals or droplets in times when impact protection is NOT required
Not rated or appropriate for protection from impact
Cleaning & Sanitation
All reusable and shared PPE must be disinfected after each use
Any of the following disinfectants may be used:

A freshly prepared solution of 10% household bleach.
EPA-certified disinfectants such as a quaternary ammonium [Lysol, RX 44, etc.], hydrogen peroxide [Spore Klenz, etc.] or iodophore-based [Wescodyne, etc.] solution suitable for routine surface disinfection. You may also use wipe-based disinfectants such as Clorox wipes [quaternary ammonium] or Cavicide. A full list of EPA-registered disinfectants can be found here.
A solution of 70% ethanol. Properly manage flammable liquids.

Ensure that each part of the face shield (both face shields, strap, etc) is wiped down and disinfected for the appropriate contact time
Laser-protective eyewear is often required when aligning or using lasers. UV light or lasers require special glasses and must have the proper attenuation factor and filters to keep radiation to an acceptable level. Each type should be clearly labeled with the optical density value and wavelength range. Laser safety eyewear is always required in the presence of class 3B and 4 lasers. Principal investigators (PIs) with class 3B or 4 lasers or laser systems must have a Laser Use Authorization (LUA) before beginning work at UC San Diego.
Poorly fitted eyewear does not provide adequate protection. Scratched and dirty lenses reduce vision, cause glare, and may contribute to accidents.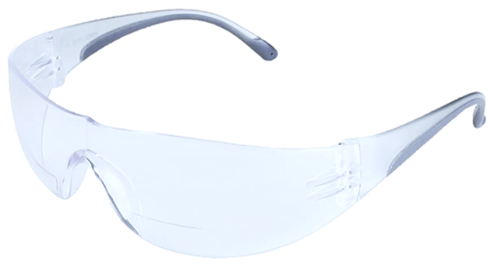 Safety glasses have glass, plastic, composite or other polycarbonate lenses that are stronger than regular glasses and are designed to resist impact from flying particles. Side shields guard against flying particles and sparks that may go around or under regular glasses. At UC San Diego, this is the minimum level of protection required when working with hazardous materials or with power tools.

Prescription Safety Eyewear is available and can be purchased by labs. Please visit the Prescription Safety Eyewear tab on the PPE for Researchers Blink page for more information.
Poorly fitted eyewear does not provide adequate protection. Scratched and dirty lenses reduce vision, cause glare, and may contribute to accidents.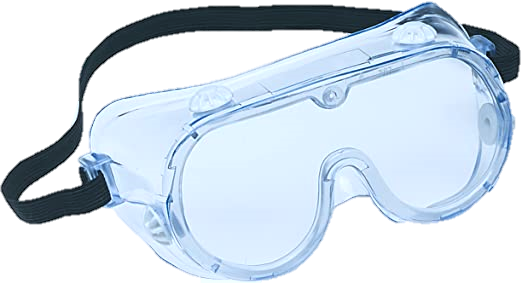 Splash goggles
completely surround the eyes and seal to the face. They are recommended for work with large volumes of chemicals or machinery that create a cloud of dust or particles. Goggles are often vented to prevent fogged lenses. Poorly fitted goggles do not provide adequate protection. Scratched and dirty lenses reduce vision, cause glare, and may contribute to accidents. Do not hang goggles by their straps. Over time, they will lose their elasticity, compromising their effectiveness.
Welding helmets
 shield the eyes and face from optical radiation and impact. These helmets typically have special-purpose lenses that protect wearers who perform visual tasks that require unusual filtering of light. See OSHA Eye Protection against Radiant Energy during Welding and Cutting for the required specifications.