Safety glasses and other forms of eye protection can save your eyesight in the event of an accident.

According to a survey by the Bureau of Labor and Statistics, 3 out of 5 workers who suffered eye injury on the job were not wearing eye protection.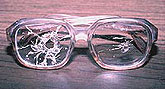 The glasses pictured at right illustrate the benefits of protective eyewear. A UCSD researcher was wearing them when a severe chemical reaction caused a flask to explode, spraying glass shards through the lab. The glasses took the brunt of the impact, sparing his eyes.
The primary causes of eye injuries are flying particles and contact with chemicals. UC San Diego employees most likely to encounter such hazards include:
Laboratory researchers
Mechanics and shop workers
Carpenters
Plumbers
Groundskeepers
Custodial workers
Requirement for supervisors
Supervisors are required to assess the workplace to determine if hazards are present or likely to be present that necessitate the use of PPE, provide employees with appropriate PPE and training, and require them to use and maintain it.
Eyewear options
To be effective, eyewear must be appropriate for the work. Different types of eyewear guard against different types of hazards, including impact, splash, and various forms of radiation.
Consult the Eye-Face Protection chart (PDF) to help determine appropriate eye protection for the task.
Types of protective eyewear
Choose from the following kinds of eyewear (most available from Marketplace) according to the hazards in your workplace:
Safety glasses have glass, plastic, or polycarbonate lenses that are stronger than regular glasses and are designed to resist impact from flying particles. Side shields guard against flying particles and sparks that may go around or under regular glasses. At UCSD, this is the minimum level of protection required when working with hazardous materials or with power tools.
Splash goggles completely surround the eyes and seal to the face. They are recommended for work with large volumes of chemicals or machinery that create a cloud of dust or particles. Goggles are often vented to prevent fogged lenses.
Face shields cover the entire face to provide impact and splash protection. Use face shields in extremely hazardous situations (including exposure to large quantities of hazardous material, or UV-B or UV-C ultraviolet light). Shields may feature plastic windows, glass inserts, or wire screens to provide different kinds of protection. For full protection, wear a pair of safety glasses or goggles (depending on the hazard) with your face shield.
Laser-protective eyewear is often required when aligning or using lasers. UV light or lasers require special glasses and must have the proper attenuation factor and filters to keep radiation to an acceptable level. Each type should be clearly labeled with the optical density value and wavelength range. Laser safety eyewear is always required in the presence of class 3B and 4 lasers.
Welding helmets shield the eyes and face from optical radiation and impact.
Special-purpose lenses protect wearers who perform visual tasks that require unusual filtering of light.
Maintenance
Proper maintenance and fit are essential, no matter what kind of eyewear your work requires. Poorly fitted eyewear does not provide adequate protection. Scratched and dirty lenses reduce vision, cause glare, and may contribute to accidents.
Remember to store goggles and face shields face up to avoid contamination on the interior surfaces. Do not hang goggles by their straps. Over time, they will lose their elasticity, compromising their effectiveness.
Contacts