Campus Guidance on Use of Face Coverings to Prevent Community Spread of COVID-19
Campus Guidance on Use of Face Coverings to Prevent Community Spread of COVID-19
Last Updated: May 10, 2021 11:37:05 AM PDT
Learn about face coverings as a public protective measure against COVID-19.
You must wear a face covering when you are at UC San Diego in certain indoor and outdoor settings. Visit the Return to Learn Safety Requirements page for the latest face covering guidance.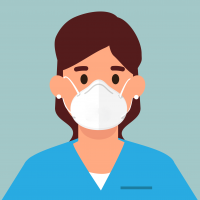 According to the CDC, when face coverings are properly fitted over the nose and mouth, they prevent the wearer from dispersing potentially infectious aerosols and droplets into the environment where they can contaminate surfaces or be inhaled by others. Face coverings with exhalation valves (quarter sized plastic disks on them) should not be worn as they do not protect others by preventing the dispersion of aerosols.
Learn more about types of masks, fitting your mask, and more at the CDC Fit and Filtration page. 
Other forms of acceptable face coverings include disposable non-surgical grade masks and KN95 respirators. Medical grade surgical face coverings and N95-respirators should be saved for healthcare and emergency workers.
Visit the CDC website for comprehensive mask information. Current campus providers of face coverings include:
Following methods can be used to reduce the fogging of the safety glasses when using face coverings and masks:
Achieve proper seal around the nose by: 

adding nose bridge in the mask with 2 twist ties adhered with tape

tightening the top strap when using two-strap masks

criss-crossing the ear loops for around-ear-strap mask

covering most of the nose area when using single strap masks

Wash safety eyewear with mild soap and water prior to use

Place a folded tissue paper horizontally across the nose underneath the mask

Treat the safety eyewear with anti-fog solution or wipes prior to use

Use anti-fogging safety eyewear
Laboratory workers can utilize cloth or disposable masks. If procedures present a risk of contaminating the wearer's mask please contact ehsrap@ucsd.edu to evaluate strategies for preventing the contamination of your mask.
Laboratory using large amounts of flammables or pyrophoric materials should utilize either disposable masks or cloth masks made of 100% cotton.
If your mask is not disposable, follow these steps:
When soiled or dirty, wash the cloth face covering or mask using a washing machine

The frequency of washing is dependent on the frequency of use. It is recommended that the mask be washed at least daily per CDC guidelines

Wash items as appropriate to the cloth material or in accordance with the manufacturer's instructions

If possible, launder items using the warmest appropriate water setting and dry completely before storage and reuse

Store clean cloth mask in a clean bag or container until it can be reused

Containers used to store used or dirty mask shall be cleaned prior to reuse