Selecting Suppliers Through the Competitive Bid Process
Last Updated: September 6, 2022 11:26:14 AM PDT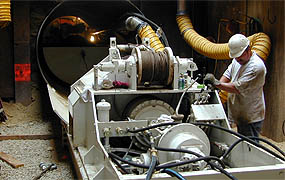 Learn about the competitive bid process and when it is required.
The competitive bid process lets UCSD secure the best quality products and services at the best possible price. To accomplish this, Integrated Procure-to-Pay Solutions posts public announcements of goods and services needed by the university. Suppliers respond to these announcements by submitting bids to the Integrated Procure-to-Pay Solutions Department.
Types of competitive bid requests
Request for Information (RFI)
Request for Quotation (RFQ)
Request for Proposal (RFP)
During the competitive bid process
The university publicly posts its requirements and needs on the Web, in trade and industry journals, and in newspapers in the form of a competitive bid request.
Suppliers' responses address the requirements for service, quality, capability, and price. To be considered, suppliers' offers must fulfill all of the specifications in the posting and be deemed responsive and responsible.
Procurement & Contracts verifies the supplier's ability to fulfill the terms of the contract successfully.
Before making the final selection of the supplier, Procurement & Contracts evaluates the quality of the offered merchandise or services and the total cost of ownership (PPT).
University policy Business and Finance Bulletin (BUS) 43 Part 3 (PDF) and the Public Contract Code require that competitive bids be obtained for purchases above $100,000.
Exceptions to the competitive bid requirement
Sole source: If Integrated Procure-to-Pay Solutions determines that goods or services are only available from a sole source, a competitive bid may not be required. A sole source might include:

Patented software products
Drugs
Manufactured items only available from 1 supplier or manufacturer.
The need to match existing furniture
Part replacement on a custom piece of equipment

Strategically sourced contracts: Competitive bids are not needed for contracts previously established through the strategic sourcing process, since the competitive bid requirement has already been satisfied. UCSD encourages its community to take advantage of strategic sourcing contracts. Departments may make purchases under these contracts even if the value of the purchase exceeds $100,000.
Professional or personal services: Certain exemptions apply to contracts for these types of services. Please contact Integrated Procure-to-Pay Solutions for information specific to your situation.
Agreement suppliers: Most of the products and services available are sourced from a formal competitive bid process, thereby satisfying the university's policy.
Emergency or public safety: Under some emergency situations where loss of life or major loss of property may occur, university policy permits Procurement & Contracts to forgo competitive bids.
Integrated Procure-to-Pay Solutions is solely responsible for managing all competitive bid solicitations in accordance with university policy (PDF).