Internet Safety Month
Last Updated: March 28, 2023 2:26:42 PM PDT
Find information to protect your family during Internet Safety Month
Internet Safety Month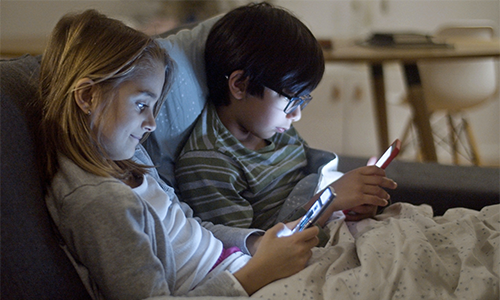 June is Internet Safety Month and now's the right time to consider how you are securing your family's safety online. We're proud to share resources from the SANS #SecureTheFamily kit, the National Cybersecurity Alliance, and the Stop.Think.Connect.TM campaign.
These resources will both better educate the campus community on established techniques to secure home devices and personal data, and show parents how they can protect their children and teens online. 
SANS #SecureTheFamily 
Securing Family Members
Family members both young and old often require extra care in ensuring they are not taken advantage of online. Whether monitoring children and teens on devices or social media or assisting parents and grandparents with installing software or avoiding phishing scams, we want to empower you to share your security awareness knowledge with those around you.
#SecureTheFamily Training Videos  
Top Threats to the Home:
Anyone's home can be targeted by a cyber attacker. In this module, digital forensics expert Heather Mahalik identifies the most common threats to home digital security and shows us how to secure a home Wi-Fi network and smart home devices.
Balancing Your Children's Privacy Online:
Our children and teens are spending more time than ever online. In this module, digital forensics expert Heather Mahalik discusses screen time limits and outlines the risks associated with kids' online activities, including cyberbullying, social media use, video gaming, and the concept of the digital footprint.
Tip Sheets and Infographics
Securing Home and Personal Devices
From "personal assistant" speakers to Wi-Fi enabled appliances, we are more digitally connected in our homes than ever before. Ensuring both children's and home devices are secured from attacks provides individuals with peace-of-mind to confidently engage with the "Internet of Things."
#SecureTheFamily Training Videos
Securing Devices:
Many parents face difficulty in striking an appropriate balance between security and accessibility regarding their children and teens' digital devices. In this module, digital forensics expert Heather Mahalik discusses the security risks associated with kids' devices, as well as common-sense steps parents can take to secure devices by type and  operating system.
Top Threats to the Home:
Anyone's home can be targeted by a cyber attacker. In this module, digital forensics expert Heather Mahalik identifies the most common threats to home digital security and shows us how to secure a home Wi-Fi network and smart home devices.
Tip Sheets and Infographics
Securing Personal Data
Backing up

data is an essential exercise that we often don't think

about until we lose - or almost lose – important information.

Encouraging employees to get into the practice of backing up

their personal information helps build a habit that will benefit

your data as well as their personal information. 



#SecureTheFamily Training Videos

Backing Up Your Digital Information:
Backing up our digital information consistently is crucial in order to protect ourselves and our families in cases of device crashes, attacks, and other emergencies. In this module, digital forensics expert Heather Mahalik discusses the ins and outs of backing up data, including the use of cloud storage providers, scheduling regular automatic backups, understanding where data is going, and talking to family members about backups, password managers, and other important data  security measures.
Tip Sheets and Infographics
Visit the SANS Security Awareness YouTube channel to share the entire #SecureTheFamily playlist with your families and friends.
National Cybersecurity Alliance
The National Cybersecurity Alliance is a non-profit organization on a mission to create a more secure, interconnected world. They work to achieve those goals by:
advocating for the safe use of all technology
educating everyone on how best to protect ourselves, our families, and our organizations from cybercrime
creating strong partnerships between governments and corporations to amplify our message and to foster a greater "digital" good
In this recent webinar, experts shared resources and tips to help you successfully prepare the younger generation to navigate their online lives.
Whether you are a parent, teacher, or school faculty, watch to equip yourself for "The Tech Talk" with your kids.
Stop.Think.Connect.
STOP.THINK.CONNECT.™ is a national public awareness campaign frontiered by The Department of Homeland Security in coordination with The National Cyber Security Alliance.
Its goal is to empower Americans to be safer and more secure online by increasing their understanding of cyber threats. The campaign aims to provide simple, easy-to-understand resources and strategies to help us stay safe on the web. 
It simplifies best practices for pursuing the internet into just three steps:
STOP and make sure security measures are in place
THINK about the consequences of your actions and behaviors online 
CONNECT and enjoy your devices with more peace of mind
Tip Sheets
NetSmartzKids
The National Center for Missing & Exploited Children (NCMEC) created the NetSmartzKids site as a child-safe place for kids to watch videos, play games & have fun.
Be sure to download their Internet Safety at Home tip sheet (English & Spanish).
CyBear Activities for Kids
"The CyBear™ family has free, downloadable kids activities to help your family learn basic cybersecurity concepts and defense strategies." Visit their site to "find downloadable activity sheets, information on educational card games and electronic games you can download to your computer. They will teach children not only cybersecurity definitions, but also how to create secret messages and defend against cyber attacks!"
The Cybersmile Foundation
"The Cybersmile Foundation is a multi-award-winning nonprofit organization committed to digital wellbeing and tackling all forms of bullying and abuse online. We work to promote kindness, diversity and inclusion by building a safer, more positive digital community."
Raising the Digital Future
"Raising the first generation of humans in a digital world is challenging. As parents, we have to navigate cyberbullying, remote learning, video gaming, privacy, screen limits, sexting and so much more. Let's talk real world solutions for raising children in a world where every bad decision they make will exist on the Internet for any curious college admission counselor or job recruiter to find. Subscribe to Raising the Digital Future with me, Kalinda Raina, a privacy advocate and mother of three living in the Silicon Valley who was the first privacy officer of Nintendo of America."
Common Sense
"Common Sense is the nation's leading nonprofit organization dedicated to improving the lives of all kids and families by providing the trustworthy information, education, and independent voice they need to thrive in the 21st century."
Multi-State Information Sharing & Analysis Center (MS-ISAC)
A division of the Center for Internet Security (CIS), the MS-ISAC is the trusted resource for cyber threat prevention, protection, response, and recovery for U.S. State, Local, Tribal, and Territorial (SLTT) government entities. Their mission is to improve the overall cybersecurity posture of SLTT government organizations through coordination, collaboration, cooperation, and increased communication.
CIS Newsletters
Blog Post & Podcast
Federal Trade Commission
The Federal Trade Commission's popular booklet, 'Net Cetera: Chatting with Kids About Being Online, is a wonderful guide to help parents raise good online citizens.