Be #PrivacyAware for Data Privacy Day and Data Privacy Month 
Data Privacy Day is a celebration of your right to control your identity and personal information, but also a reminder that with this right, you must proactively protect yourself.
Whether you are a student, faculty, or staff, we must remember that all of us exist in digital form on the Internet. When you're online, you leave a trail of "digital exhaust" in the form of cookies, GPS data, social network posts, browser searches, and email exchanges to name a few. Services that you don't even use can actually quietly pick up on your trail and piece together various information about you. Of course, once something is online, it can be there forever, so it's more important than ever to not make yourself an easy target. Setting security restrictions for whatever data you control and taking some proactive strategies can make all the difference. 
Here are a few simple steps to protect yourself:
Do the two-step. 
Using two-step login (also known as multi-factor authentication, or MFA) wherever possible will help protect you even more. Apple, Google, Facebook, Twitter (and soon all UCSD accounts) provide a free two-step login. It's fast, it's easy, and it's essential.
Use a password manager.
UC San Diego provides a FREE, state of the art password manager for both campus and personal use. Stop typing passwords! It allows you to use better passwords everywhere and even works on your mobile phones.
Know your audience when sharing. 
Check the privacy settings on all of your apps and social media accounts to ensure that they are set to share only what you want; with whom you want, i.e., family and friends. Learn more about what UT Austin's Identity Center has to say about maintaining your privacy and exactly how to manage your privacy online for most popular social media sites.
Don't overshare.
Be cautious about what you post. When you post photos or other information online, remember you're probably also sharing someone else's personal information as well. Actual data such as birthdates, home addresses, and phone numbers should never be posted. Certain images, like photos of your children, are not for public view, and should be restricted to friends and family. Images of children are regularly abused and can put them and their families at risk. Even old accounts can pose a risk; be sure to delete social media accounts that you aren't using regularly or haven't used in the past year. Want to learn more? Read a summary of what to avoid when posting.
Events
Watch the recorded live event Data Privacy Day 2019: A New Era in Privacy for expert discussions on the future of #privacy. #PrivacyAware staysafeonline.org/dpd19-live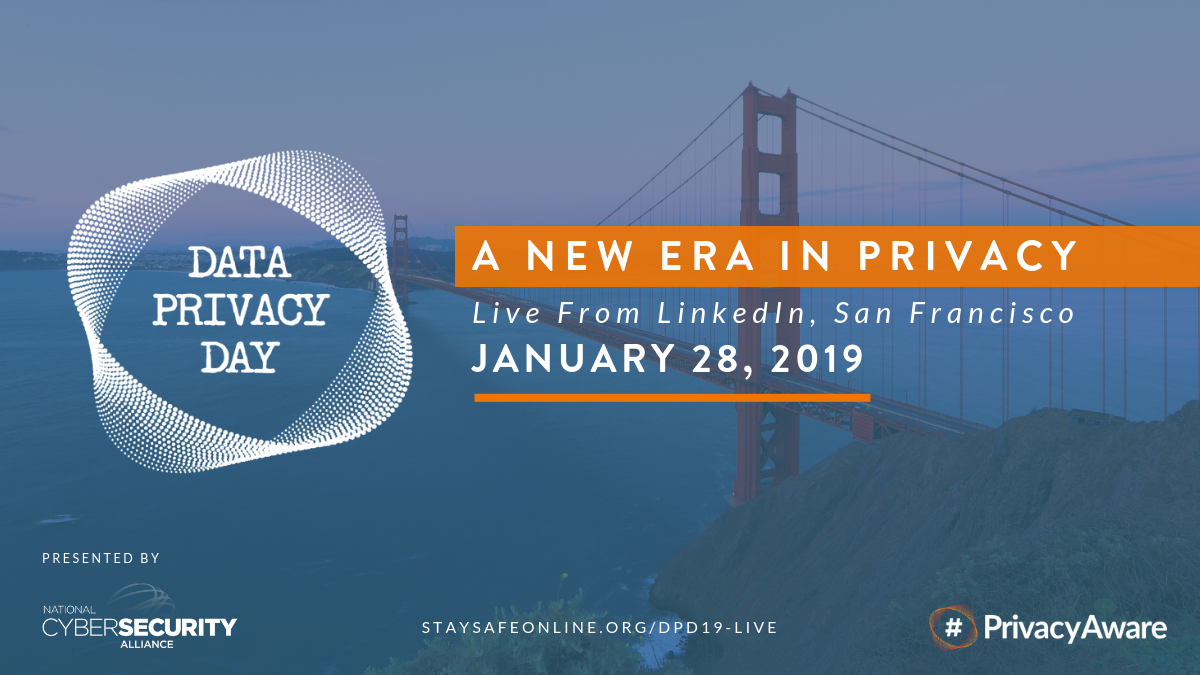 Join the Library in celebrating Love Data Week 2019 February 11-15. Three events will help you learn how to safeguard your personal data, share and publish research data, and work with personal data in research. Join the Campus Privacy Officer Pegah Parsi and UCSD's Research Data Curation Program for these amazing seminars and workshops in support of Data Privacy Month. 
Resources
Articles
Videos
Additional resources from StaySafeOnline.org
International Data Privacy Day is part of a greater campaign that promotes awareness of the importance of privacy, highlights easy ways to protect personal information, and reminds organizations that privacy is good for business. UC San Diego joins the growing global effort among nonprofits, academic institutions, corporations, government entities, municipalities, and individuals to raise awareness at home, at work, at school, and in their communities. Through collaboration and unified, consistent messaging about privacy and protecting personal information, all Data Privacy Day Champions are working toward the common goals of improving individual and business consciousness toward respecting privacy, safeguarding data, and enabling trust. For more resources and tips for managing your privacy, visit https://staysafeonline.org/data-privacy-day.