Camp Matthews: Formerly Used Defense Site at UC San Diego
Last Updated: July 28, 2022 11:04:33 AM PDT
Learn about the Formerly Used Defense Site (FUDS) area of campus and what to do if you encounter or suspect the presence of old, unexploded military ordnance.
The UC San Diego campus contains about 400 acres designated as a Formerly Used Defense Site (FUDS). This land, formerly Camp Calvin B. Matthews, is in the southeastern part of the campus (see maps).
Inspection and findings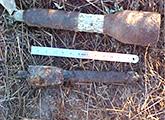 The U.S. Army Corps of Engineers inspected the old Camp Matthews property, including a search for unexploded ordnance and discarded military munitions constituents.
In a September 2007 report, inspectors' findings indicated instances of soil contamination and debris remains from military munitions (see image at right).
Precautions
If you encounter or suspect the presence of unexploded military ordnance, debris, or contamination:
Do not touch it! Consider all munitions to contain a live charge.
Report the find immediately to UC San Diego Police, (858) 534-4357.
Step away from the area, and keep others away until responders arrive.
Provide a general description, including length, width, color, and location of the item(s).
Be prepared to direct responders to the location.
Final report
For more information on Camp Matthews and the Army Corps of Engineers Final Report, contact:
University Community Branch Library
4155 Governor Drive
San Diego, CA 92122-2501
Phone: (858) 552-1655
Print a FUDS brochure (PDF) for distribution. Note: Set your printer on landscape orientation. Double-sided printing is preferred.
Related information
Guidelines, policies and procedures