CPR & AED Training
Last Updated: March 30, 2020 10:07:23 AM PDT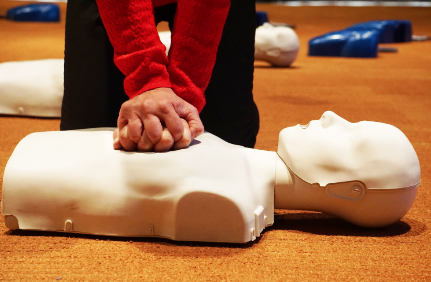 Learn about the annual UC San Diego CPR & AED training.
EH&S offers training throughout the year to help students, faculty and staff become proficient in administering cardiopulmonary resuscitation (CPR) and using an automated external defibrillator (AED).
These lifesaving techniques are useful in an emergency situation since the average response time for first responders ranges between 8-12 minutes. For each minute delayed, the chance of survival reduces by approximately 10%. CPR and AED training takes a few short hours to learn, giving you the skills necessary to help save a life.
Learn how to respond to a sudden cardiac arrest using hands-only CPR from professional first responders. Get hands-on experience with our practice mannequins. No CPR cards will be issued.
Each session is made up of two half-hour sessions:
Hands-only cardiopulmonary resuscitation (CPR)
How to use an automated external defibrillator (AED)
Sign up CPR & AED Training via the UC Learning Center and reserve your slot.
CPR & AED Training
Location: Price Center Ballroom East
Date: No dates at this time.
Session 1 - 10:00 am – 11:30 am
Session 2 - 11:30 am – 1:00 pm
Five minutes is all it takes to learn hands-only CPR. Learn the signs when someone is in Sudden Cardiac Arrest. Knowing these lifesaving basic skills can make all the difference before emergency help arrives. 
Drop by on your way to work, during your a break or lunch hour and learn hands-only CPR from our trained professional.
New dates to be determined.
Hear testimonials from staff and students on how they saved a life using CPR and an AED: