Safety Awards
Last Updated: March 28, 2022 11:36:09 AM PDT
Learn how EH&S recognizes and awards outstanding safety efforts.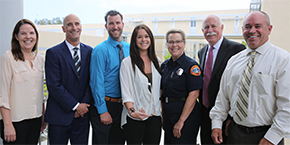 EH&S recognizes those who exhibit a commitment to university safety and whose safety acts and programs are judged to be exemplary. In line with the Principles, of Community, EH&S values each member of the UC San Diego community for his or her individual and unique talents, and we applaud all efforts to enhance the quality of campus life. Thank you to those who make the campus and San Diego community a safer and better place. Learn more about our awards:
The Safety Award For Excellence celebrates UC San Diego employees who excel in creating and maintaining a 

safe and healthy workplace. 
Recent Winner: Joe Stagg, Undergraduate Biology Laboratories. Read more in the SAFE Hall of Fame!
UC San Diego's commitment to safety depends on the willingness of every individual to pursue a safe, healthful, and environmentally sound workplace. Environment, Health & Safety (EH&S) recognizes employees who are making the campus a SAFE place with the Safety Award For Excellence. EH&S selects winners from nominations received from the UC San Diego community. Winners receive a plaque or trophy, tribute in EH&S newsletters, and gift certificates for lunch at the Faculty Club. Individuals and workgroups are eligible.
Criteria
Nominees must be affiliated with UC San Diego (Staff, Student, or Faculty) and must satisfy at least 1 or more of the 5 criteria listed below:
Implementing a safety program for their workplace
Taking an active role and being a strong advocate of safety and health
Demonstrating significant improvement over previous conditions
Consistently maintaining a good safety program over a number of years
Making an extra effort to improve or correct a specific aspect of safety within the workplace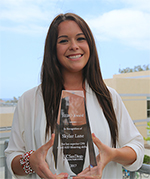 The Hero Award for Excellence commends UC San Diego faculty, staff and students for their acts of courage and bravery. Environment, Health & Safety (EH&S) believes that employees who protect life, property and the environment should be recognized for their emergency response effort.
Recent Winner: Student, Skylar Lane, saved a life using an AED. See the Hero Hall of Fame.
EH&S provides winners with a gift for their outstanding act
Criteria
Nominees must satisfy at least 1 or more of the 5 "Acts of Courage and Bravery" listed below to be nominated for the award:
Physical acts to rescue a victim in hazardous conditions.
Critical decisions or preventative actions that ensured civilian safety.
Actions using CPR or an AED to save a life.
Acts to protect property.
Acts to protect the environment.