Customized Printed Products
Customized Printed Products
Last Updated: August 10, 2020 12:34:35 PM PDT
Imprints creates many types of customized printed products.
Buy business cards, letterhead, envelopes, and pre-inked stamps for UCSD, San Diego Supercomputer Center, or Health Services through PrintConnection. You can also download an order form or call (858) 534-3020 to request one.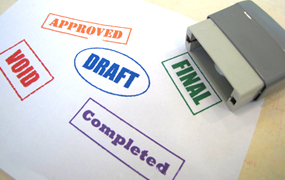 Make any repeated message into a custom pre-inked stamp. Imprints produces custom and standard pre-inked stamps in within two business days. Imprints stocks 9 standard shapes and sizes.
These durable, clean, high-resolution stamps can:
Include graphics such as logos and photos, and your choice of a variety of fonts
Be pre-inked and refilled in blue, black, green and red
Ordered in various sizes
Order through PrintConnection or call Imprints customer service, (858) 534-3020.
Imprints offers a variety of portable, customizable display, conference and exhibition products to enhance any event. Add your logo or message to create a professional, memorable display. You can order these portable products.
Pop-up displays

Lightweight, easy-to-assemble fabric displays on aluminum alloy frames

Table throws




Available with full-, one-, or two-color graphic printing
Sized to fit standard six- and eight-foot tables (open back or full 4-sided table throws available)
Eight throw color options

Booth canopies

Create shade for outdoor events
Custom full-color print or thermal-transfer graphic
Available standard sizes: 10' x 10', 10' x 15', or 10' x 20'
Quick and easy assembly
Includes protective cover

Flags

Vertical designs stand up to wind to avoid tipping
Available with full-, one-, or two-color graphic printing
Shapes: Feather, teardrop, and rectangular
X-base or spike base.

Hanging banners

Direct visitors to your booth
Hang above your display
Available shapes include circle, square, triangle, football, or wave (tapered or curved)

Banner stands

Several stand styles available to meet your needs
Large-format printing by Imprints
See product catalog (PDF)