Career Connection
Last Updated: October 14, 2022 1:06:07 PM PDT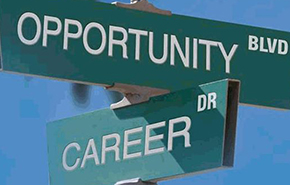 Career Connection helps UC San Diego employees interested in assistance with career planning, goal setting, job enhancement, and lateral or upward mobility.
Join
All UC San Diego staff employees are eligible to join Career Connection. Register online.
Free services
The following free career development services are available to UC San Diego employees who are part of the Career Connection program:
Career development workshops (PDF) provide the knowledge and tools required for successful career planning. Check out our workshop calendar.
Visit UC Learning Center (login required) and search for "Career Connection" to enroll in upcoming workshops at these locations:
Hillcrest Medical Center
Health System - La Jolla
School of Medicine
SIO
UC San Diego campus
SkillScan Online is an interactive and engaging process for identifying transferable skills and applying the results to:
Career planning
Career change
Professional development
Self-marketing for job search
Two versions are available: Drive and Express (designed for mobile devices).
Informational interviews can be arranged to allow research and information gathering about UC San Diego jobs and departments. To assist you, we designed this helpful Informational Interview flier (PDF) with tips on how to find someone to interview, how to request an interview, and what kinds of questions to ask.
To sign up as an information provider or to ask for a referral, contact Career Connection, (858) 822-2633, with the job title or field that you're interested in.
The Individual Development Plan (IDP) is a tool help organize and target your professional and personal development in order to help you reach your short- and long-term career goals and strengthen your current job performance by providing a structured approach.  
To schedule an IDP consultation, contact Career Connection, (858) 822-2633.  
Mock interviews are an excellent way to prepare for an upcoming interview. Here are two options:
1) To schedule an in-person mock interview, send the following to 
Career Connection
:
Your resume
A job posting you are interested in or have applied for (a file, not a link - since those can expire)
What you want to work on for your interviewing skills
Days/times that will work for you in the next two weeks
We usually require that you take the Job Interviewing Skills (login required) workshop, or its equivalent, beforehand, since to get the most out of a mock interview you should treat it as if it were a "real" interview, rather than spending the time going over interviewing tips and techniques.
2) Do a self-serve mock interview using the Pre- and Post-Interview module in the My UC Career portal.
This is the place to ask your questions about professional and career development, or just hang out and listen. Come and go during the hour, it's like office hours.
Held the third Thursday of each month, between 1 and 2 p.m., these are hosted by the Women's Center. Find details and upcoming dates at women.ucsd.edu/events.
Questions? Please contact Jess Geipel jgeipel@ucsd.edu.
Held quarterly,
UC San Diego All Staff Mixers
are a chance to meet, mix and mingle with UC San Diego staff from all departments on campus. With over 7,000 staff members, you will make friends and valuable connections in a fun and relaxed atmosphere.
My UC Career
is a systemwide online self-directed portal that helps UC San Diego employees connect to resources for career management across all UC locations.