Data Privacy Week Events
Last Updated: February 8, 2023 4:47:59 PM PST
Learn about Data Privacy Week Events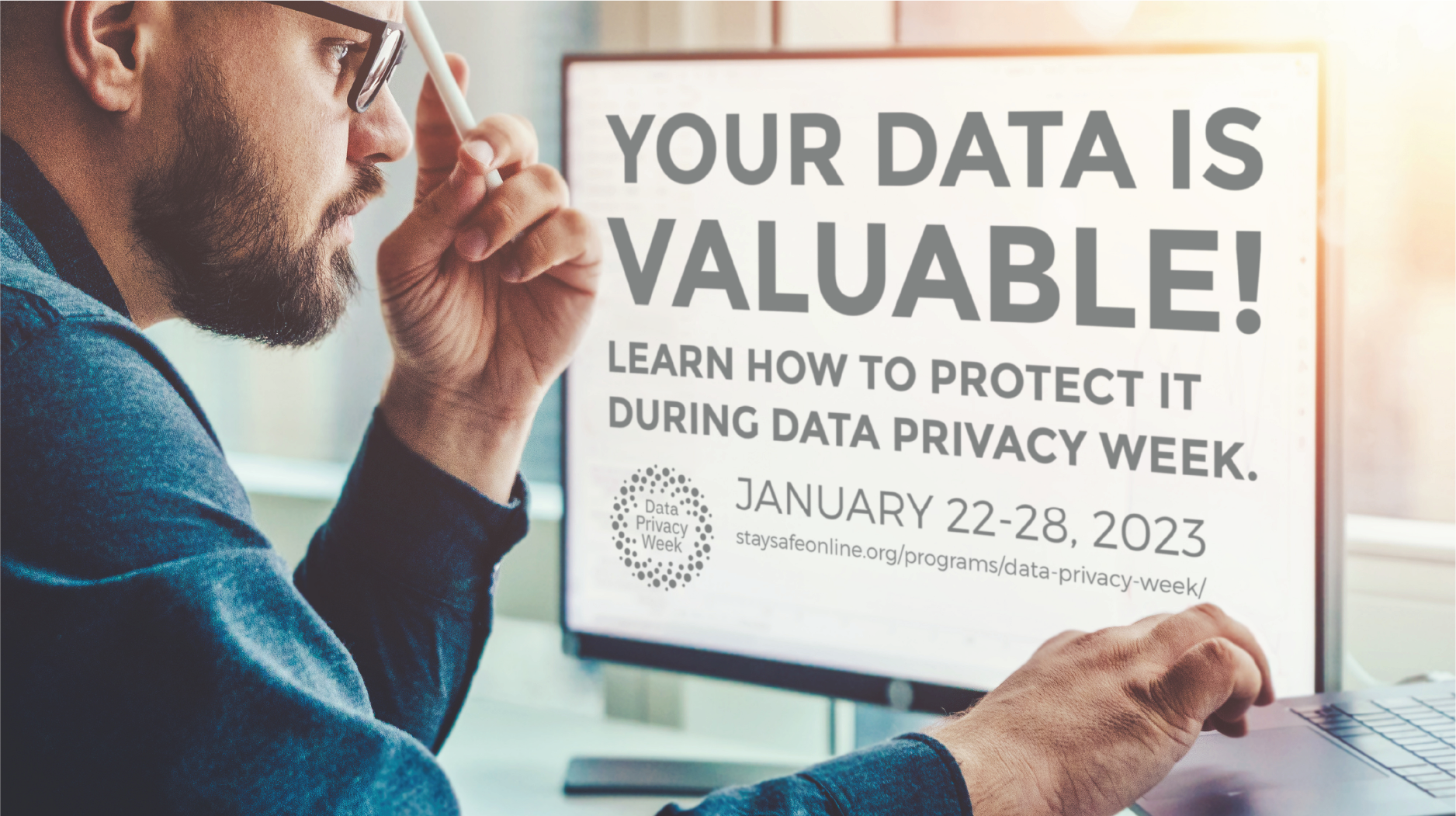 Data Privacy Week is an annual campaign to spread awareness about data privacy and educate individuals on how to secure their personal information. It also works to encourage businesses to respect privacy and be more transparent about how they collect, store and use data.
Vast amounts of data about individuals are collected and processed every second from millions of sources. This information is routinely used not only to predict behavior, preferences, and status, but also to monitor or manipulate people for gains. As a university that handles the personal data of applicants, students, staff, faculty, research participants, alumni, and the general public, we have an ethical and stewardship responsibility to all of these individuals to treat them and their information with respect.
See below for opportunities you have to learn from our Campus Privacy Officer Pegah K. Parsi, both in support of this month's initiative and throughout the year. You'll also find session recordings from 2022 events that she participated in. Be sure to also visit the Campus Privacy Office website to learn more about privacy issues on campus. 
National Cybersecurity Alliance
DATA: The Story of You

Date/Time: Tuesday, January 24, 2023 9:00am-10:00pm PT Watch the recording on LinkedIn

Your data is precious – when it is added up, it tells an expansive story about you and your behavior. Learn how to manage and protect it. Because the issue becomes more pressing every year, we turned Data Privacy Day into Data Privacy Week in 2022 and are at it again in 2023 with multiple days of informative programming. Learn how to protect your family's data and how to take charge of your own data trail. We'll even let you know if you should accept cookies!
Featured Sessions:
Why Data Privacy Matters 
Protecting Your Family's Story 
Data Privacy Week #PrivacyChat

Date/Time: Wednesday, January 25, 2023 11:00am-12:00pm PT
Celebrate Data Privacy Week and join @StaySafeOnline's Twitter Chat! Come prepared to share your top tips, advice and resources for consumers and businesses and connect with other data privacy and security advocates and educators!

Designing a Privacy-First World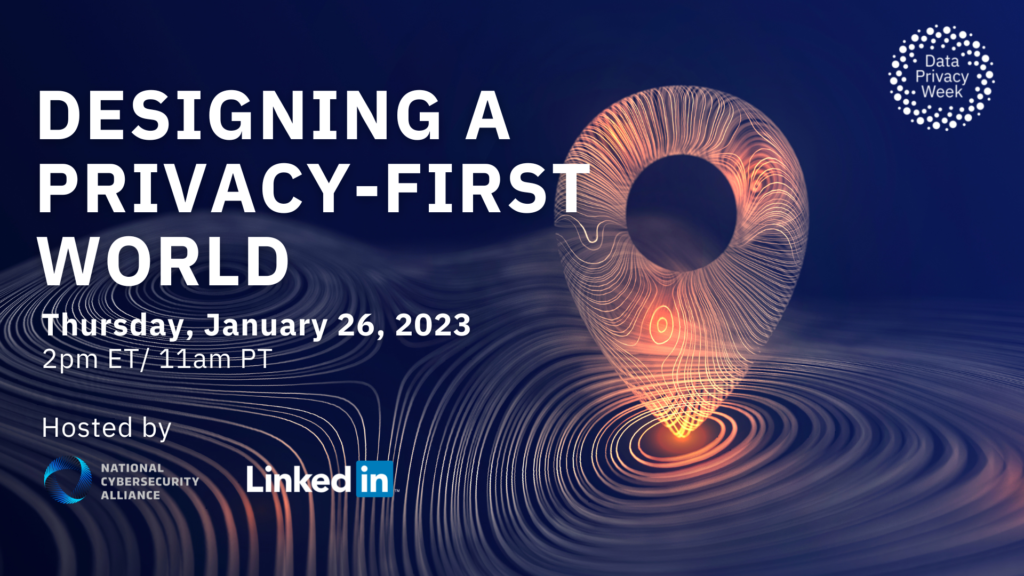 Date/Time: Thursday, January 26, 2023 11:00am-1:00pm PT
Watch on LinkedIn Live
Data privacy becomes a more central issue with each passing year, which is why we've turned Data Privacy Day into Data Privacy Week and we're celebrating the second annual DPW with a range of illuminating programming. Learn the nuts and bolts of designing a product, business or society with data privacy in mind.
 
Featured Sessions:
Globalization of Privacy 
Privacy by Design
The Future of Privacy Engineering 

Privacy @ UC San Diego

Date/Time: Tuesday, January 31, 2023 2:00-3:00pm PT
Registration required via UC Learning (Currently only open to UC San Diego workforce members)

Privacy is for everyone! Join our Campus Privacy Officer to learn about privacy laws and how to best protect yourself through the online Privacy @ UC San Diego session.

You will be introduced to the concept and principles of privacy as well as receive highlights of key legislation and policies that impact personal data on campus. This training also defines "privacy" and "personal data," helps you understand the UC San Diego Privacy Principles, and know where to go for guidance and questions.
[Note: This training is required for UC San Diego workforce members who access personal data or databases storing personal data, and is pre-requisite for special topics trainings. (Privacy 101 Workshop may be substituted.) There are 8 additional sessions in the year, so visit the UCSD Privacy Trainings Registration website for details.]
Privacy 101 Workshop

Flagship educational course of the history and importance of privacy and data ethics, with particular attention to modern data practices and their impacts on current events, society, and personhood. Beyond data privacy, learners will develop a deeper understanding of bodily/intimacy privacy, territorial privacy, communication privacy, and surveillance capitalism.
Open and free to the public. Recommended for those interested in the concept and discipline of privacy beyond compliance. Can be substituted for Privacy @ UC San Diego as a pre-requisite. Available via Zoom.

Tuesday, April 25, 2023: 9 a.m.-noon PT

Tuesday, September 26, 2023 1-4 p.m. PT

Privacy 101 Registration via UC Learning (UC San Diego only)
* If you are unable to register through the UC Learning Center, please email aarivera@ucsd.edu for assistance.

Privacy 101 Registration via Eventbrite (Non-UC San Diego learners)
Past UCSD privacy event recordings
In this August 17, 2022 keynote recording, UC San Diego's Chief Privacy Officer Pegah Parsi takes viewers on an exploration of privacy -- one of the increasingly integrated parts of our daily lives, yet one of the most misunderstood. Recent news items have made this issue politically polarizing, despite how bipartisan it really should be. Get to know how much your own (and others') portrait is shaped to the world, and what can happen when such a rich profile exists.
Big data has been a global hot-button issue for several years, which has led to a major focus on higher ed privacy.

Lack of transparency and ugly intentions can leave students open to abuse of their autonomy. But a passionate group of professionals is leading the charge in protecting our students from hostile actors.

Pegah Parsi, Chief Privacy Officer at the University of California San Diego, joined The Higher Edge to share her thoughts on privacy in the higher ed space and why its security matters.

Listen in as they discuss:
The erroneous conflation of security versus privacy (10:24)
Opportunities for collaboration in the privacy sector (32:44)
Opportunities for collaboration in the privacy sector (32:14)

Check out these resources mentioned during the podcast:

To hear this interview and many more like it, subscribe on Apple Podcasts, Spotify, or The Higher Edge website or search for The Higher Edge in your favorite podcast player.
Campus Privacy Office
UC Resources
External Resources
EDUCAUSE: EDUCAUSE is a nonprofit association and the largest community of technology, academic, industry, and campus leaders advancing higher education through the use of IT.
STOP.THINK.CONNECT.: STOP. THINK. CONNECT.TM is a national public awareness campaign aimed at increasing the understanding of cyber threats and empowering the American public to be safer and more secure online.
National Cybersecurity Alliance (NCA): Learn how to protect yourself, your family and your home with their tips and resources.
Cybersecurity and Infrastructure Security Agency (CISA): CISA leads the effort to enhance the security, resiliency, and reliability of the Nation's cybersecurity and communications infrastructure.

Federal Trade Commission: Privacy and security resources for consumers and businesses.

Consumer Reports: Consumer Reports shares privacy tips, product ratings and news to help consumers protect their privacy.