Council of Data Stewards
Last Updated: July 10, 2023 4:05:13 PM PDT
Please note: this group is in the process of being formed.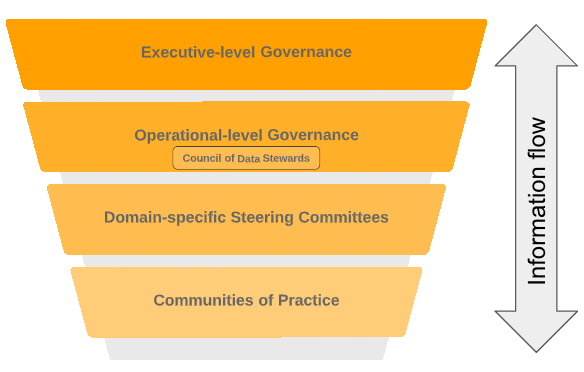 Mission: 

Leveraging knowledge of governing institutional, system-wide, state and federal laws and policies related to data access for classes of data under their purview,

to ensure consistent application of policy, as well as work through new use cases, to ensure consistent application of policy, as well as work through new use cases

. (e.g., FERPA for student data)

Responsibilities: 

Review and align data access procedures, workflows, and training across data domains as appropriate. 

For situations where data blending occurs across data domains, review requests and determine appropriate data access and classification parameters. 

Review data access requests that fall outside policy or represent a new or novel use case.

Review the impact of current and upcoming projects that effect data sharing.

Document and consult with a network of subject matter experts for sub-classes of data within each respective data domain.

Discuss and identify data access and usage operations and bring recommendations back to the ODC.

Composition: 

Data Stewards from functional areas across major data domains

Chief Information Security Officer and Privacy officer as ex-officio. Coordinate novel privacy-related questions with Information Security and Privacy Council (ISPC).

Academic Ex-officio members will be invited as optional attendees representing the academic mission of the university and the responsible use of data to support it.

Connection: 

Has a seat on the executive-level governance to ensure representation of its area's interests. The data stewards should meet regularly in the form of the Data Steward Council to ensure alignment for data steward responsibilities on the topics of access, training, and change management across data domains. 
Cadence: Monthly meetings.
Data Steward by Business Domain  
Business Domain

Role

Current Appointee/Backup

Research Administration

Proposal Awards, Compliance Records

AVC Contract and Grant Administration

Ross Dammann/Nicole Joyce

Student Academics/Administration

Student education records, learning analytics, financial aid, tuition and fees

Registrar

Cindy Lyons/David Garrison

Employee Information

Personnel Records, Employment Applications, Compensation, Payroll, Labor Relations, Training, HR Compliance

Executive Director, People-Data, Systems and Processes (PSP)

Pearl Trinidad/Brian Lorentz

Academic Personnel Information

Faculty Personnel Records, Faculty Appointments, Review Files, Faculty Compensation, Faculty Recruitment Reports, Faculty Employment Actions

AVC, Academic Personnel 

 Cindy Palmer

Financial Information

General Ledger, Purchasing, Vendors, Accounts Payable, Budget, Investment, Financial Records

Associate Controller, Internal Controls & Accounting

Arlynn Renslow/Heather Sears

Facilities Information

Campus Facilities Records, Campus Capital Equipment, Inventory Records

Chief RMP Business Process and Innovation Management Officer

Eliud Escobedo

Advancement Information

Donor information, Gift Data, Prospect Research, Campaign Data, Grant and Foundation Data

Director of Advancement Data and Systems

 Joel Bingham