Upcoming Events
Last Updated: January 25, 2023 8:09:12 PM PST
Find out more about Innovation Events and Workshops
Upcoming Events
IDEAS Council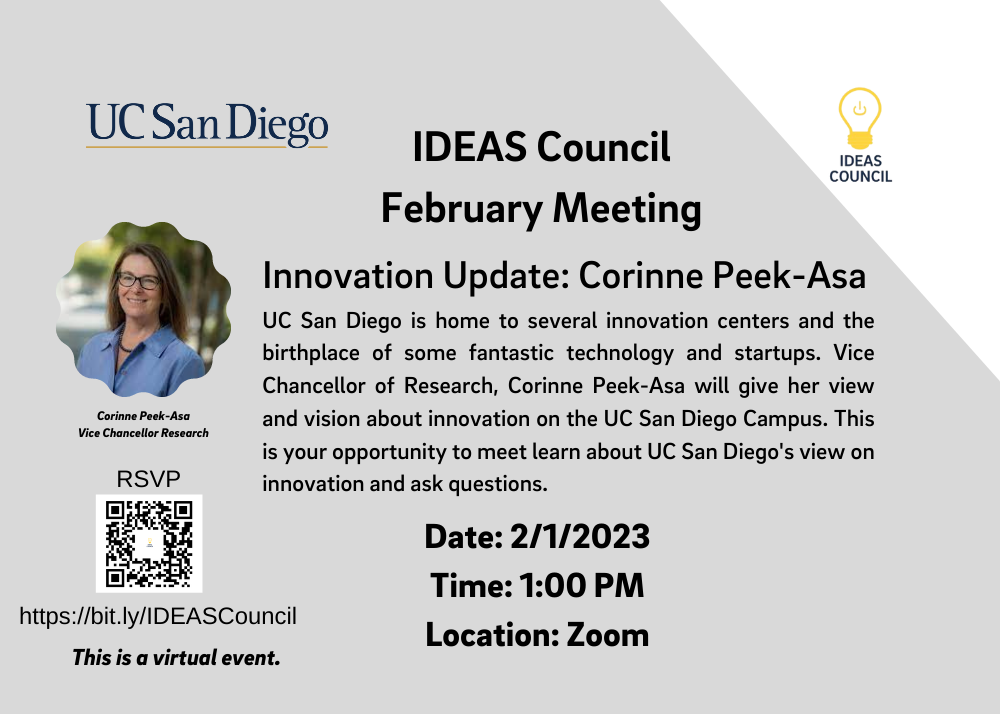 ---
Institute for the Global Entrepreneur

---
Sullivan Center for Entrepreneurship
All students, faculty, and community are welcome to ENTREPRENEURSHIP FROM THE INSIDE OUT - MINDSET.

---
Entrepreneur's N.E.T.work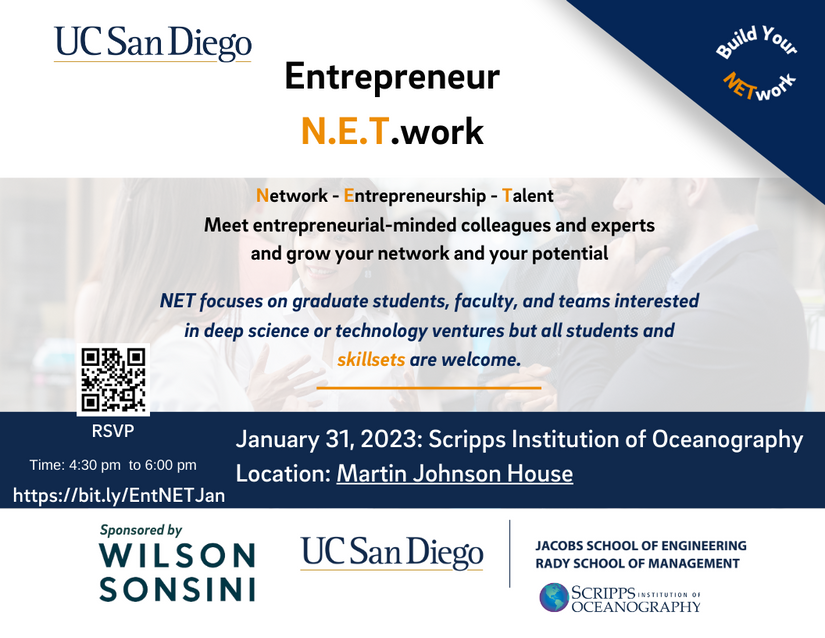 ---
Past Events
Triton Innovation Challenge Info Session: February 17, 2022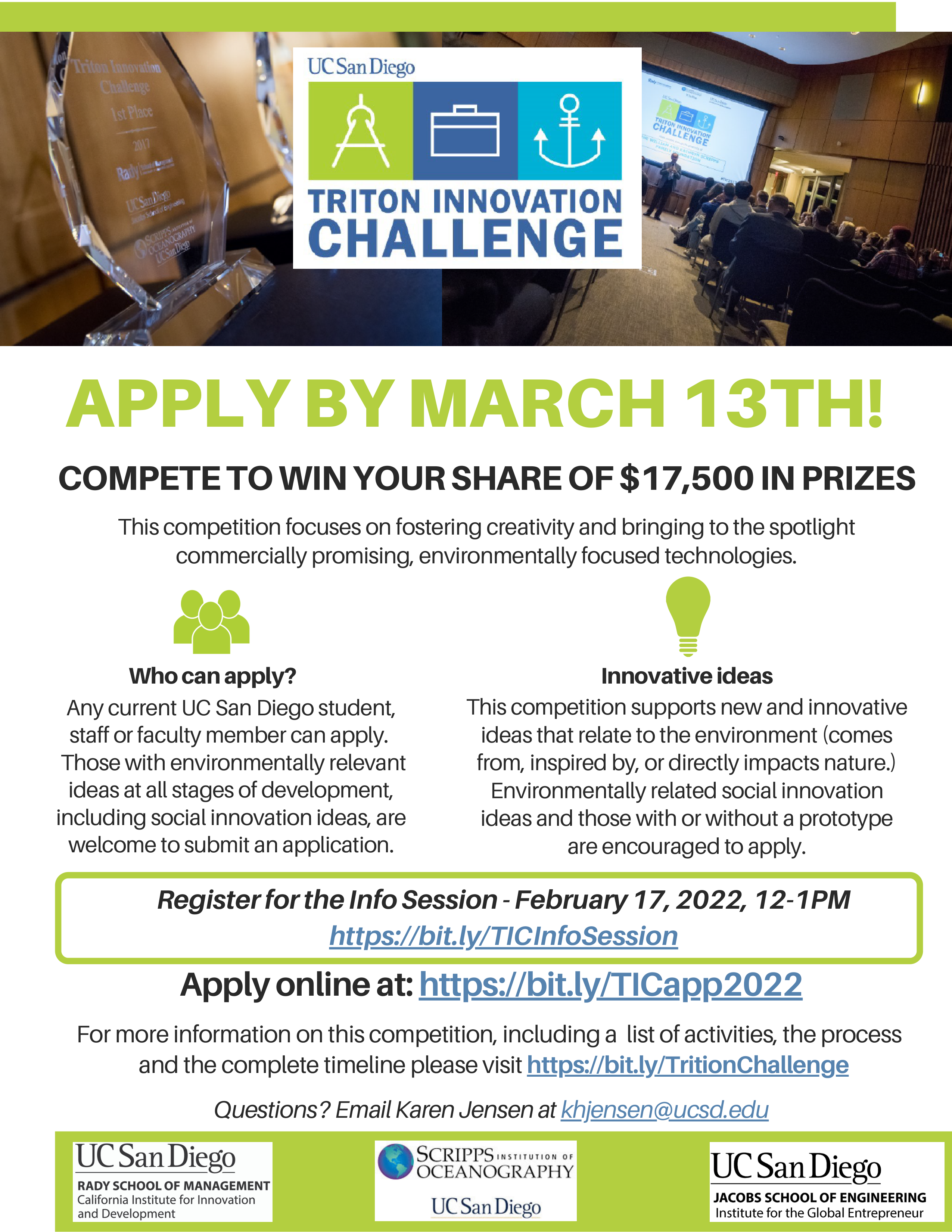 Event Details
Do you have an idea addressing environmental or social needs? Apply to the Triton Innovation Challenge, a business competition focused on fostering creativity and bringing to the spotlight commercially promising, environmentally focused technologies. Register for the TIC Information Session on February 17th from 12 - 1 PM to learn more about the competition. 
Registration Link: https://bit.ly/TICInfoSession
Apply Here: https://bit.ly/TICapp2022
---
IDEAS Council Meeting: October 6, 2021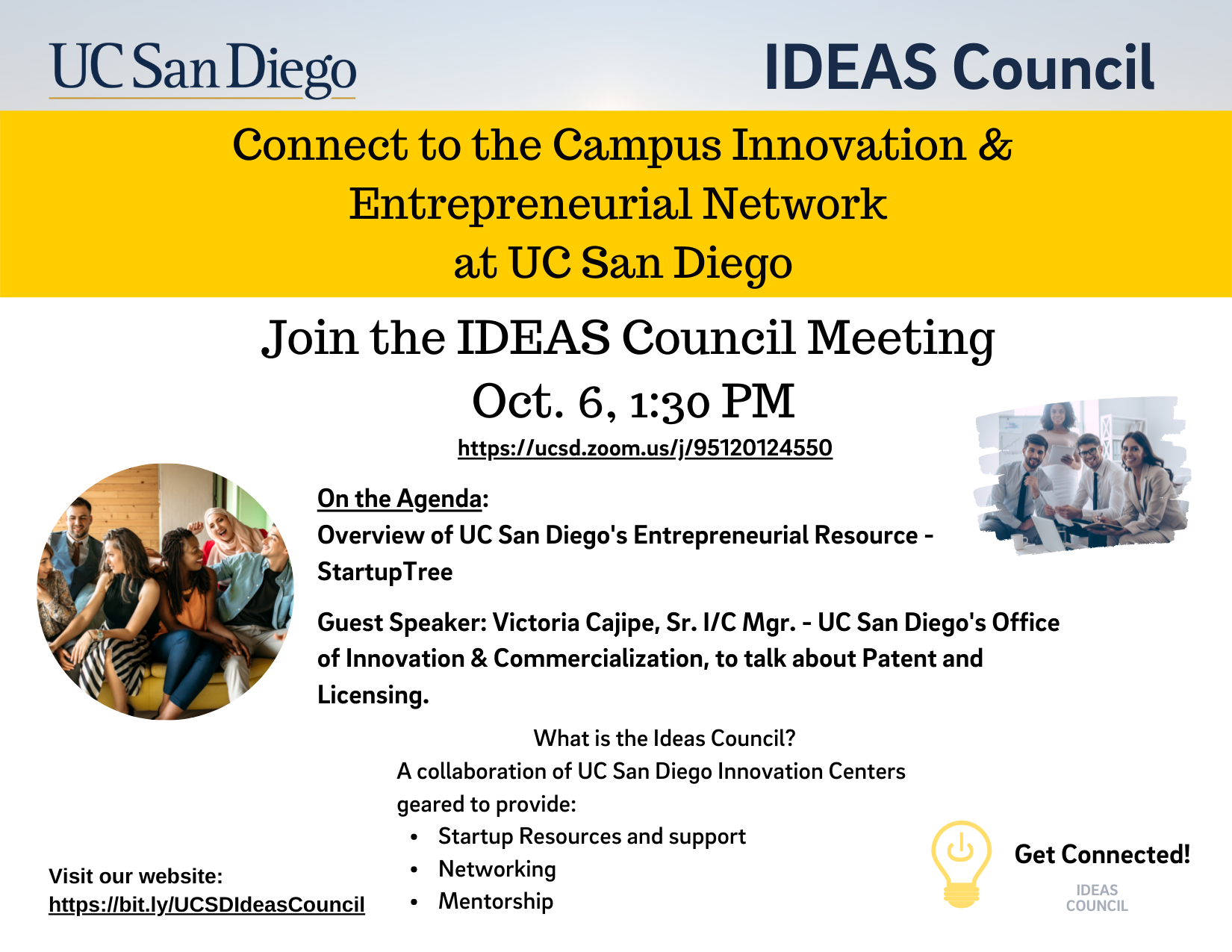 ---
Innovation Expo 2021
Event Details
The Innovation Expo: Health and Wellness event, hosted May 27, 2021, was a celebration of all entrepreneurship-related accomplishments at UC San Diego, showcasing the various entrepreneurial and innovative accomplishments relating to this year's theme of Health & Wellness.
Congratulations to our Innovation Expo Finalists
Pitch Competition Winner

| | | |
| --- | --- | --- |
| |    | |
Pitch Competition Finalists:
1st Place Winner: Alga
Austin Sheagley | Cognitive Science | Class of 2019
2nd Place Winner: Jeweled
Daniella McDonald | School of Medicine | Class of 2023
3rd Place Winner: Stasis
Sai Komatineni | Electrical Engineering | Class of 2022
Prototype and Demo Fair Finalist:
Audience Choice Winner: Marai
Maria Charles | Biochemistry | Class of 2024
This theme is important to UC San Diego because of our connection to diverse stakeholders and to acknowledge our potential for global impact. As part of our strategic plan and in alignment with the United Nations Sustainable Development Goals, our focus for this event celebrates our commitment to ensuring healthy lives and promoting well-being at all ages is essential to sustainable development.
More than ever, our role as educators, innovators, and entrepreneurs has been highlighted throughout the response to the COVID-19 pandemic. The rapid spread of human suffering, the destabilization of the global economy, and upending the lives of billions of people around the globe have made the need for innovative solutions all the more urgent.
Enriching Human Life and Society: Improving health and alleviating ailments, and mitigating social disparities through education, resources, historic perspectives, technologies, and communication.
The Pitch competition is open to all UC San Diego undergraduate and graduate students. Startup or project teams that can take advantage of available information to harness statistics, novel science behind health and wellness, or have a new approach to engaging the mind, body, or spirit are encouraged to apply.
We are agnostic of technology type and focused instead on the mission and vision of the startup or project team.
Winners will receive potential in-kind awards, including:
EIR 1:1 mentorship
virtual lunch with venture capital partner
UC San Diego Media Exposure
and more
For a physical device: A basic prototype that demonstrates some functionality
For software: Display executable code that generates output, whether data or a basic functioning platform/app on a computer or mobile device.
For a process or service: Be able to describe the process or service and how it is delivered.
For any combination of the above: Be able to describe and/or show how the components interact with one another to deliver the final benefit to the user.
What problem are you solving?
Who are you solving this for?
What are the main features of your product/service/process?
Without giving away your "secret sauce," how does your product, service, or process work?
Application deadline: Sunday, May 2nd at 11:59 p.m.
Selected teams notified: Monday, May 10th
Final videos submitted: Monday, May 17th
Dress rehearsal: May 26th
Day of event: May 27th