Small-Scale Chemical Spill Kits
Small-Scale Chemical Spill Kits
Last Updated: June 29, 2021 11:00:03 AM PDT
Find out what to include in a laboratory-scale spill kit and when to use it.
Purpose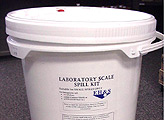 Keep small-scale spill kits in every lab for small, incidental chemical spills. An incidental spill is one that staff can clean up without putting themselves or others in danger. All other spills should be cleaned up by specially trained personnel.
Contents
Spill kits must contain certain items (listed below) in addition to equipment and supplies appropriate for the chemicals commonly used in your lab. Restock them whenever a spill occurs.
Spill kits must include:
A storage container with a UCSD spill kit label. Here are 2 ways to get labels:

Print your own labels (PDF).
Send an e-mail request for free, preprinted labels to either of these 2 sources:

Appropriate personal protective equipment, including gloves, coats, and goggles
Absorbent materials made for the chemicals in your lab, such as organic solvent or corrosive spill pads
Materials or equipment for chemicals with special handling requirements
Plastic bags to contain the waste
Sample spill kit
The table below lists an appropriate inventory for a lab that handles mercury. Modify this list to suit your chemical inventory.
All items are available from UCSD's Chemistry & Biochemistry Stockroom, (858) 534-2017.
Sample spill kit for mercury
Item
Description
Stock #
Container
6.5-gallon pail with twist-lock cover
503575
2 pairs of gloves
Neoprene 18-ml gloves, size large
311245
2 pairs of goggles
Encon goggles
311305
2 lab coats
Disposable Tyvek lab coat, size large
311708
12 all-purpose absorbent pads
Absorbent chemical wipe, 9.5"x14"
521050
1 mercury spill kit
Mercury (Hg) collector
312080
4 waste bags
Clear Polybags, 12"x8"x29"
705015