Merchant Equipment Resources
Merchant Equipment Resources
Last Updated: June 24, 2022 9:47:34 AM PDT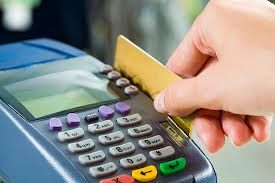 Find the information you need to effectively manage your credit/ debit card processing equipment and maintain compliance with all requirements.
Merchants must use devices that are PCI compliant and EMV capable. The university's merchant processor offers a swipe card terminal and PIN pad (FD130 and FD35 PIN) that meets these requirements. The terminal and PIN pad can be rented or purchased. Contact the credit card coordinator to obtain these devices.      
As a merchant, it is your responsibility to obtain the necessary proof of compliance when purchasing or renting equipment. You may be asked to provide proof to the qualified security assessor for annual PCI DSS compliance validation.
Accepting mobile payments with smartphones or tablets are currently not permissble for UC San Diego merchants.  
The University's Merchant Processor offers a swipe card terminal (FD130 Duo) and PIN pad (FD35) that is both PCI compliant and EMV capable. The FD130 Duo and the FD35 can be purchased or rented. All charges associated with these devices will be charged to the index you provide.     
Why should I rent my terminal?
No initial startup cost.
Fixed monthly payments.
Easy replacement when there's changes to technology.
Technical and malfunction support. If you rent a terminal through our merchant processor, they will provide technical support as well as change or update terminal(s) as needed.
Pricing: FD130 (terminal with integrated PIN PAD) OR FD130duo (terminal with PIN PAD FD35 attached by cable) rental is $36.00/ month.
Why should I buy my terminal?
Pricing: Terminal FD130 or FD130 duo purchase is $600.
Procedures for returning terminals obtained from merchant processor (for replacement, or due to closure of merchant):
Submit a ticket by logging onto the Business & Finance Services & Support portal (GET HELP) and
Select the following:
I want to...Ask a Question or Make a Request
About....Banking, Cash & Card Products
Related to...Merchant Services
More Specifically...Merchant Servicees General Inquiries
Explain the reason for returning equipment
Indicate whether or not the merchant account needs to be closed
Merchant number and name of the merchant
Equipment to be returned: brand and model, serial number and terminal number (back of the device)
The Credit Card Coordinator will request the Call Tag (Shipping Label) from the merchant processor -BAMS.
BAMS will email the Call Tag to the merchant's contact person. 
STEP 1 – Pack the equipment –individually- and accessories in a box and prepare it properly for shipping. Get copy of the Call Tag.
STEP 2 – Affix the Call Tag to the box, making sure that no other labels show.
STEP 3 – Follow the UPS Shipping Instructions
Important: Once the equipment is shipped, search for the case created in the BFS Services & Support portal (login required) and update the Call Tag tracking number, and date of shipment.
At that time the Credit Card Coordinator can request the deletion of the billing (rental charges, if any).
Record and track your package in the shipping company's website to confirm that the package was delivered. This will ensure that your merchant account will be given proper credit.
If the equipment is not received back, the merchant account may be billed for the cost of the equipment (approximately $550.00) plus applicable tax.
Europay MasterCard Visa (EMV) terminals and cards, also known as chip-enabled terminals and chip cards, are becoming a global standard. This chip technology was developed by the credit card industry to help provide more secure payments and minimize the risk of fraud. These cards have an embedded microchip that communicates with chip-enabled terminals for a stronger verification environment for card present transactions. They are already the standard elsewhere in the world and will soon be common in the U.S..
What are the benefits of EMV?
EMV technology is a global initiative designed to reduce fraud and help secure cardholder information. 
Why will this affect me?
By October 2015, fraud losses in a card present environment will be absorbed by the merchant if not operating in an EMV environment. UCOP has taken a proactive approach and required all merchants to implement EMV technology.  
Do I have to change or modify my equipment?
 Yes, merchants must migrate to equipment that is capable of processing EMV cards. To implement UCOP's EMV migration plan, the credit card coordinator will contact the merchant for details on updating their current equipment.