HDH Recharge Privilege
Last Updated: May 16, 2022 2:54:03 PM PDT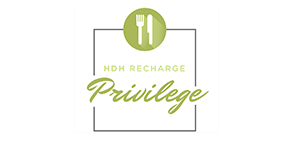 Learn about HDH Recharge Privilege.
The HDH Recharge Privilege provides easy access to Dining, Market and Culinary Service locations for staff & faculty. Shop at HDH Restaurants and Markets and pay with your employee ID.
Apply online
Sign in to HDH Recharge
Complete the required fields (applicant, supervisor and financial contact information)
Read and agree to the policies
Click Request Recharge Privilege
The online application process ensures that the privilege is granted securely and swiftly. This application replaces on-site paperwork.
Once assigned, the recharge can be used at all HDH Facilities with a simple swipe. See HDH locations that accept Dining Dollars for details about specific restaurants and markets.
Featured participating locations
Full Service Restaurants
Ideal for business meetings & all day meeting breaks
Bistro @ the Strand – Village neighborhood (a 5 min walk from Torrey Pines Administrative offices)
Sixty-Four North – Revelle College neighborhood.  
Markets
Ideal for grab n' go orders, small meeting support items, small team buildings.
Roger's Market – Revelle College neighborhood (near Pacific Hall, Galbraith Hall, Argo, Physics Dept., Natural Sciences Building)
John's Market -  Muir College neighborhood (near HSS, AP&M, Biology Building)
Goody's Market – Marshall College neighborhood (near Solis Hall, Media Services, Peterson Hall, Social Sciences Building, Super Computer Center)
Village Market – Village neighborhood (near Rady School of Business, Torrey Pines Administration Buildings. RIMAC, Super Computer Center)
Earl's Market – Warren College neighborhood (near Atkinson Hall, EBU1, EBU3, Literature Building, Warren Lecture Hall)
Sixth Market – Sixth College neighborhood (near Canyon View Pool, Structural and Materials Engineering, Visual Arts Facility, Pepper Canyon Hall)