United Way Campaign
Last Updated: June 14, 2019 11:41:50 AM PDT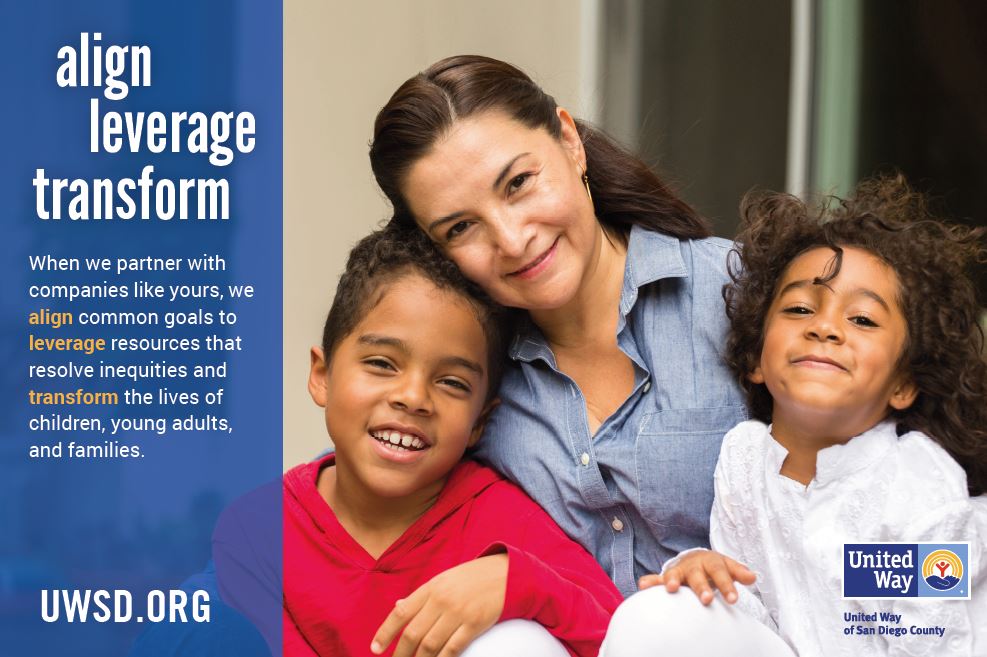 Find out about the 2019 UC San Diego United Way Campaign.
UC San Diego's United Way 2019 Campaign theme is "Align in common goals to leverage resources that resolve inequities and transform lives".
You can donate in one of 2 ways:
Paper pledge form (PDF). Also available from Human Resources, hr@ucsd.edu.
Campaign features
2019 UC San Diego United Way Campaign Poster:
United Way of San Diego video
Blog articles
We strengthen our community when we align with partners and leverage our resources to transform lives.
Since 1920, UWSD has worked in alignment with partners to address inequities in our region and help underserved communities. The challenge is identifying the sustainable, long-term goals we want to achieve and reaching them together. UWSD leverages the use of data and our partners' expertise to better understand root causes, and put impactful solutions into action. Our work, in partnership with others, uses shared goals, innovation, and proven practices to resolve inequities and transform the lives of children, young adults, and families in the San Diego region.

 

How we strengthen our community:

Early Childhood Success: Stop Summer Learning Loss. Summer vacation actually reduces childhood learning. Low-income students often lose ground, compared to high-income students, because they don't have the same resources. Kids who can't read well by 3rd grade are four times less likely to finish high school on time. United Way aligned partners to combat learning loss by collaborating on a summer literacy initiative that included STEM, health, and reading. Now, not only do the students continue reading over the summer, but their reading scores improved by 86%.
Early Childhood Success: Every Day Attendance. Every day a student misses class means fewer dollars invested in that school.  55,000 boys and girls were chronically absent from San Diego schools in 2016-17. Parents and schools are doing everything they can to get students to school on time. But families are still challenged by other priorities—like transportation, food insecurity, and livable wages. Today, United Way's attendance initiative analyzes what is working so that resources can be applied to the most successful efforts. By using data to highlight what efforts worked, we were able to get more chronically absent to school, on time, every day.
Youth Success: College & Career. Over 60% of local jobs require some level of post-secondary education. But many of our students aren't prepared, and they're missing out on local opportunities. United Way partnered with hundreds of San Diego businesses to provide work-based learning experiences for local high school and community college students. Now, this model has helped 15 school districts and 47 high schools benefitted from this countywide effort, including over 125 employers across 3 key industries, creating learning experiences for tens of thousands of San Diego youth.
Family Stability: Earned Income Tax Credits (EITC). Each year, thousands of San Diegans don't take advantage of the tax credits they earned on their tax returns. Many low-income households who think they don't make enough money to file taxes don't realize they're actually eligible for a refund check! To improve and impact family stability, United Way San Diego County helped align over 22 community and non-profit partners to implement tax filing and referral services. In 2018, 61 free tax prep sites were leveraged by the coalition, returning over $40 million in federal and state refunds to the people in the county that need it most.
Family Stability: Unions United. An unexpected life event can be the downfall of any family. A sudden job loss or unforeseen health crisis can severely impact a family's well-being. According to the Center for Policy Initiatives, over a third our county's children are living in households struggling to make ends meet. By leveraging federal funds, Unions United, in partnership with United Way, provides emergency assistance to individuals and their families during a crisis. Today, an onsite food pantry distributes food from grants and other donations, including the annual mail carriers' food drive, which brought in a 200,000 pounds of food in 2018.

Align with us, leverage your resources, and transform lives. By donating today, and combining your gifts with others, we can continue to invest in areas where we can do the most good.

Please give today and help San Diego's children tomorrow. Join us as we create a vibrant community built on opportunity for everyone.