United Way Campaign
Last Updated: October 17, 2022 3:38:16 PM PDT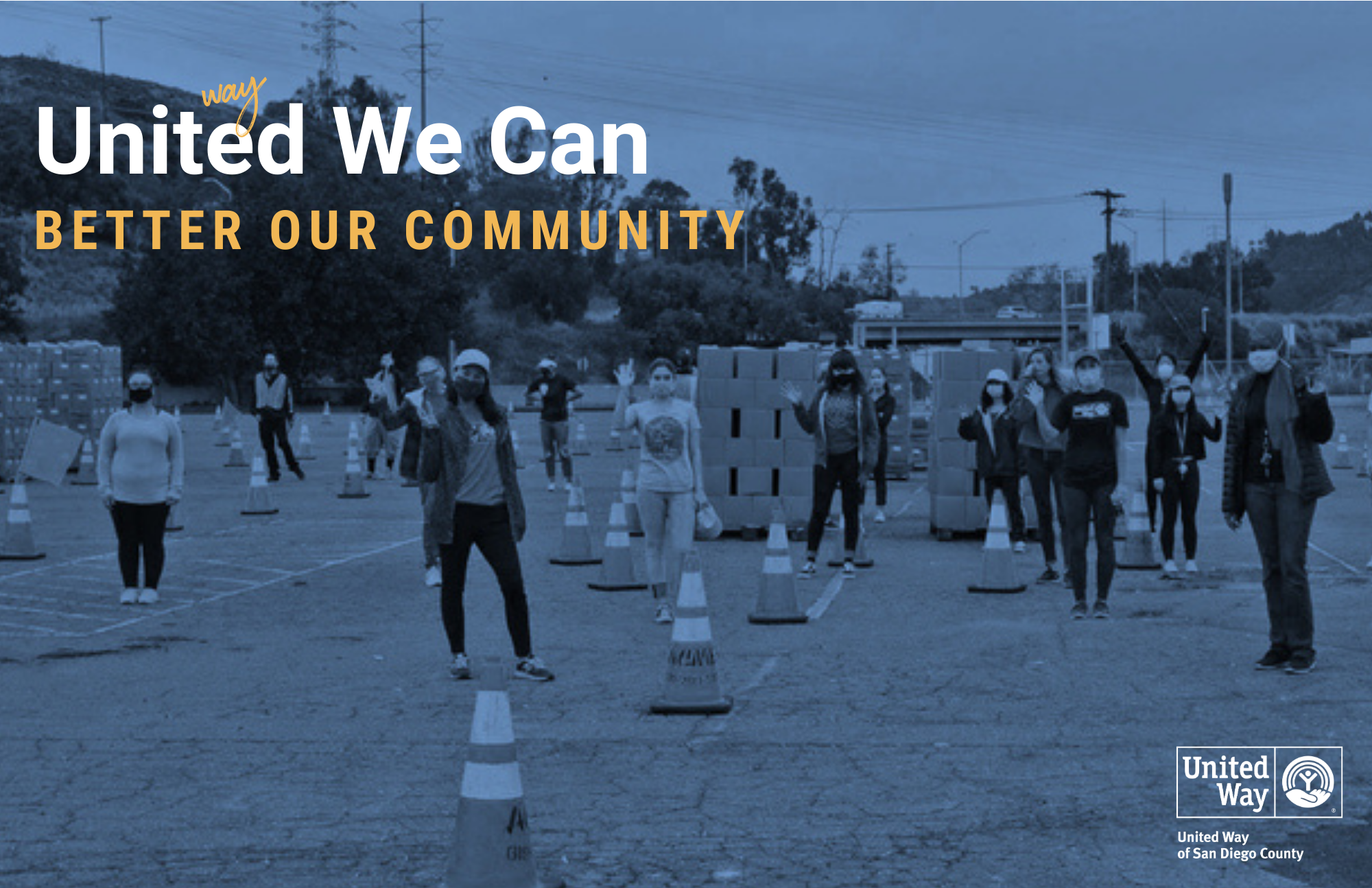 Find out about the 2021 UC San Diego United Way Campaign.
UC San Diego's United Way 2021 Campaign theme is "United We Can"
You can donate in one of 2 ways:
Online : United Way - UCSD

Paper pledge form (PDF)

: here
Campaign features
Discover "United We Can":

video 

Keep Up With Us.

Read more on how, in partnership with others, UWSD use shared goals, innovation, and proven practices to resolve inequities and transform the lives of children, young adults, and families: Blog Articles

Our 2019-2020 Annual Report.

Highlights of our work and impact. here
United We Can Better Our Community.
We recognize the needs and inequities in the community and bring together nonprofits, businesses, government, and individuals to more effectively and efficiently impact change than any one of us could do alone. We lead innovative problem solving with our data driven, proven processes and expertise to create sustainable systems change for families across our region.

United We Can Improve Childhood Literacy.

Reading skills are critical for success in school and life. COVID 19 has disproportionately affected families experiencing economic hardship, in turn threatening the educational success of children and widening the gap of disparities. UWSD identifies where students are struggling, and works together with partners to develop interventions. Our work includes efforts to reduce the Summer reading gap, when on average, 3rd 5th graders lose 20% of their reading skills (Source: NWEA Summer Learning Loss What We Know And What We're Still Learning). We also collaborate with partners to improve parent confidence, help children enjoy reading, provide books, facilitate hands on activities for reading engagement, and other techniques as needed to support literacy.



United We Can Improve School Learning Engagement by Supporting Families.

We know students succeed when they show up ready to learn. UWSD supports students and their families with Every Student, Every Family, an innovative program leading the way to help schools reduce absenteeism and increase engagement. To ensure we are filling gaps in the region's educational system, we must also address other issues that keep children from focusing on learning and keep vulnerable families from thriving, such as access and connections to much-needed community resources. Together with our partners, we identify barriers to learning and develop solutions to ensure that every student has the opportunity to thrive –regardless of race, ethnicity, income, or zip code.


United We Can Get People Tax Refunds They've Earned. Approximately 1 in 5 people eligible for an Earned Income Tax Credit (EITC) do not claim it. (Source: Internal Revenue Service ) UWSD leads the EITC Coalition to bring together partners who can provide free tax preparation services so people get their refund. Eligible families got back an average of $2,000 last year. (Source: San Diego County)



United We Can Increase Access to Job Training & Experience.

Students need on the job experience to get hired, but not everyone has access to internships. UWSD is a key partner in initiatives to create an equitable pipeline between local educational institutions and high quality jobs in the region. We are working with partners to create opportunities for underserved young people to gain high value skills to enter the workforce, as part of the regional goal of adding 20,000 skilled workers per year by 2030.


United We Can Help People Through a Crisis.

As the economy collapsed in March 2020, UWSD quickly responded with the Worker Assistance Initiative. Working together with partners at the County of San Diego (led by Supervisor Nathan Fletcher), The San Diego Foundation, SDG&E, and the San Diego & Imperial Counties Labor Council, we launched a fund to support individuals and families experiencing layoffs due to COVID 19. We were able to provide immediate support because of our existing efforts through Unions United, which was already providing support for housing and utilities to help families make it through an incredibly challenging time. The initiative raised $1.9M. The funds were used for direct assistance, through utilities and rent/mortgage payments, as well as grants to local partner organizations serving low wage workers.
Thank you for all you have allowed us to accomplish and we hope we can continue counting on your support as we work to resolve inequities that exist for children, young adults, and families here in San Diego.