iPhone/iPad Resources
Last Updated: June 23, 2023 2:41:37 PM PDT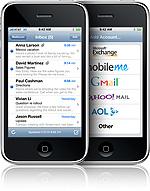 Find resources that help you configure your iPhone and iPad to use various UCSD services.
Setting up your e-mail
If you're unsure if you get e-mail through Exchange or IMAP, contact your department's system administrator or the IT Services Help Desk.
Protecting your data
Getting UCSD information
Use the UC San Diego iPhone app to check course listings, find campus buildings, get sports scores, and more.