Wireless Door Locks at UCSD
Wireless Door Locks at UCSD
Last Updated: June 16, 2016 2:08:05 PM PDT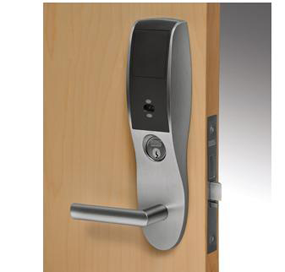 Wireless door locks are becoming more popular at UCSD, but the potential for interference with and from the campus wireless network exists.  Both policies and practical matters affect what type of lock you can and should install.
IT Services cannot help evaluate the function/suitability of the lock itself, but can advise on whether the considered solution will cause or experience interference with and from the campus Wifi network.  Read on to learn how to select a door lock that best avoids conflicts with University WiFi.
IT Services recommends that you consult with our Data Communications group before purchasing any wireless door lock technology.
Consider compliance, practicality and security in addition to convenience and economics when selecting a wireless door lock.
Compliance
UCSD policy (PPM 135-3) prohibits the installation of wireless access points without clearance by IT Services, and many wireless door locks come with their own access points. Before purchasing a wireless solution, contact IT Services via datacom-help@ucsd.edu so that we can determine if the product will interfere with or connect with campus WiFi.
Practicality
After IT Services has determined that the proposed solution can coexist with campus WiFi, the customer can decide what solution best meets their needs. Generally, there are two options. With the first option, the wireless door locks connect to the campus wireless network UCSD-PROTECTED (a WPA2-E network) as end user devices. This option makes use of UCSD's secure wireless network and eliminates the need for installing and maintaining a separate infrastructure. A "role account" for your locks can be created by contacting postmaster@ucsd.edu.
The second option is for a localized ZigBee (802.15.4) network. This option requires the installation and maintenance of a separate infrastructure. Zigbee-based locks have been deployed in many parts of campus and have not demonstrated detectable interference to campus WiFi users. IT Services has granted conditional approval of this technology on a per-site basis.
Please note: interference in the 2.4 GHz spectrum, such as that from microwave ovens or cordless phones, may cause performance and connectivity issues to a wireless door lock if the source is too close.
If you have already purchased a ZigBee, BlueTooth, or non-campus WiFi product, IT Services is interested in adding those installations into our knowledge base for troubleshooting purposes. We will make our best effort to allow systems to coexist and would remove an interfering system as a last resort. We are unaware of any currently installed system that is actively disruptive.
Security
Some wireless door locks can use an external wireless network, but cannot do WPA2-Enterprise (or use an alternate form of encryption not available on the campus wireless network). Using an unencrypted, unprotected connection for such locks means they can be easily attacked, possibly allowing miscreants into your locked spaces, so these devices are not appropriate for campus use.
If your wireless door lock has its own back-end server, ask whether communication with the server is encrypted. If it is not, it may be easy for an eavesdropper to hack your system and break into your space.
Prior to making your purchase, please contact IT Services to discuss the proposed solution's compatibility with the campus production wireless network.
IT Services cannot assess or comment on the suitability of any lock vendor; our interest is in making sure that the proposed solution does not interfere with the campus network.
A short list of questions to ask your vendor:
Does the product rely on ZigBee or Bluetooth, or does it use another wireless protocol?
Does the product require its own wireless access points, or can it use the campus' WPA2-Enterprise network?
In case of power outage or wireless network failure, does the product fail open, closed, or is that configurable?