How to Share OneDrive Files
Last Updated: May 18, 2021 9:08:59 AM PDT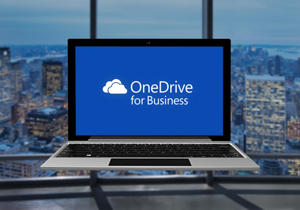 Find out how to boost your productivity by sharing files with OneDrive.
Share files with colleagues as a link instead of an email attachment

Avoid searching your inbox for the correct email - the link is always current
Set expiration dates for links shared outside of UC San Diego

Edit documents together in real time

OneDrive is integrated with Microsoft Office for easy editing of common file types

Sharing files in OneDrive doesn't require that the recipient has Office installed - they only need access to a web browser
Follow these steps:
Log in to OneDrive. See instructions.
Right click the folder or file name and choose Share




Select Specific People

Document access for the person/people shows on this window and defaults to "Allow Editing". You can change this to "View" by unchecking the box.



Type the email addresses of the people you would like to share with and select Copy Link

Internal user (at UCSD)

Enter a name in the search box and it will find the user through Active Directory
Add an optional message for the user
Choose Send to forward the invitation

External user (does not already have a Microsoft account or an internal UCSD account)

Enter their full email address
Add an optional message for the user
Choose Send to forward the invitation
Recipient will receive an email containing the invitation with a link that allows the recipient to "redeem" the invitation

Link sends another email message containing a one-time password they'll use to access the resource
One-time passcodes are valid for 30 minutes. After 30 minutes, the user must request a new passcode
User sessions expire after 24 hours. After that time, the guest user receives a new passcode when they access the resource (Session expiration strengthens security.)
View more information about sharing with external users on Microsoft's Help page
Need help? Contact your departmental technical support or the
ITS Service Desk
, (858) 246-4357 or ext. 6-HELP.