Public Relations Council
Last Updated: November 17, 2023 3:20:52 PM PST
The UC San Diego Public Relations Council brings together staff from across campus working in public relations, communications and external relations for professional development and networking.
Our Mission
Empowering storytellers. Building community.
The Public Relations Council serves to elevate the knowledge and skills of UC San Diego staff members and strengthen collaboration by:
Providing relevant resources and best practices in public relations; 
Standardizing processes and proactively sharing our collective expertise and resources; 
Integrating into the larger public relations and communications community within the San Diego/Tijuana region to help build a more diverse staff pipeline and build strong community partnerships;  
Providing mentorship to give experienced, junior and new staff an opportunity to receive guidance on their career in public relations; and
Valuing integrity and advocating for ethical action in our daily jobs.
Join the Public Relations Council mailing list
How to send to the list
Simply format an email as you normally would, and send directly to prcouncil-ucsd-g@gcloud.ucsd.edu
Your message will be briefly held, and then released by one of the council chairs
All members of the list will receive your message, with the text "[prcouncil-ucsd-g]" inserted at the start of the subject line automatically by the system - there is no need to add this bracketed text yourself.
Questions? Contact Michelle or Anthony below.
Public Relations Resources
Select resources regarding public relations provided by the UC San Diego Public Relations Council
2023-2024 Council Chairs
Anthony King, APR, co-chair and mentorship chair, serves as assistant dean of strategic engagment in the School of Arts and Humanities, and is a LEAD Fellow from the Office of Equity, Diversity and Inclusion. Anthony received his bachelor's degree in English from the University of Washington and his master's degree in international relations from Alliant International University. He is a member of the San Diego/Imperial Counties chapter of PRSA, and received his Accreditation in Public Relations in 2022.
Ioana Patringengaru, communications chair, is Associate Director for media relations at the Jacobs School of Engineering at UC San Diego. Ioana worked as an education reporter for the Press Enterprise in Riverside County before joining UC San Diego as a senior writer for University Communications in 2005. She earned a master's in journalism from UC Berkeley and a master's and bachelor's in Japanese translation from the National Institute of Asian Languages and Cultures in Paris, France. She is also fluent in French and Romanian.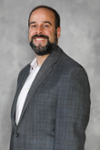 Jeff Tourial, operations chair, has served as Associate Director of Athletics for Communications at UC San Diego since 2019 and brings more than 20 years of experience in Division I intercollegiate athletics. Jeff oversees communications and social media strategy, as well as web site and media relations management for UC San Diego's 23 intercollegiate varsity sports. He also serves as co-host for the department's Tritoncast podcast. Jeff received a bachelor's and master's in broadcast journalism from Syracuse University and a master's in sports leadership from Duquesne University.
Jeanna Vazquez, program & events chair, is Senior Communications and Media Relations Manager for UC San Diego Health. She manages strategic communication campaigns for the health system, with focus in emergency medicine, cardiovascular services, pulmonology and critical care. She is an experienced public relations professional with a demonstrated history of working in nonprofit, consumer and healthcare industries. She also volunteers for Surfrider Foundation San Diego and PRSA San Diego/Imperial Counties Chapter. Jeanna received her bachelor's degree in journalism and media studies with an emphasis in public relations from San Diego State University.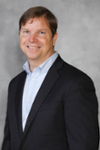 Matt Nagel, APR, University Communications liasion, joined UC San Diego as the Senior Executive Director for Public Relations in the spring of 2021. Matt began his career in TV broadcasting then shifted to public relations at a boutique healthcare communications agency. Matt discovered his passion for higher education at Georgia Institute of Technology and went on to work at New York University and Carnegie Mellon. He received a bachelor's in broadcast communications and political science from The University of Toledo and a master's in communications from Austin Peay State University.