Liberating Structures Immersion Workshop
Liberating Structures Immersion Workshop
Last Updated: August 15, 2017 10:54:49 AM PDT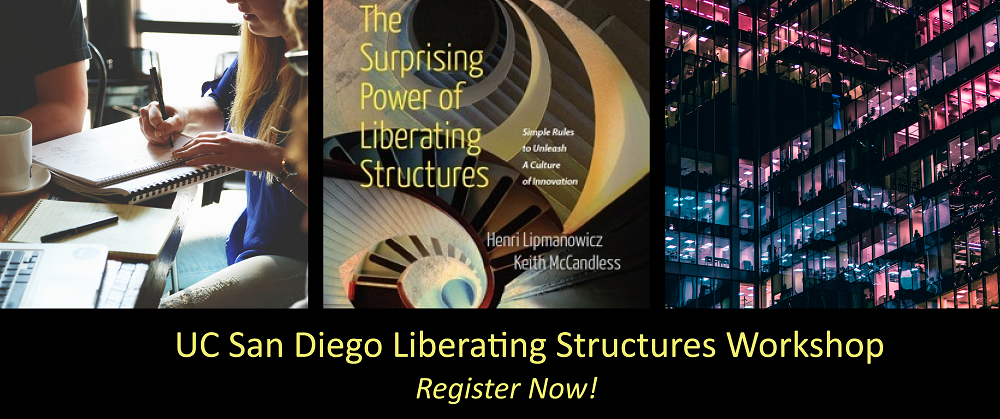 Join us and be prepared to be liberated!
Liberating Structures Immersion Workshop

Who Should Attend? Department, project, and meeting leaders like you!
Why? Learn unique facilitation techniques to encourage groups to produce effective outcomes, agreements, and innovative ideas
When? August 24, 2017, 8:00 a.m. - 4:30 p.m.
Where? Price Center East, 4th Floor Forum Room.
Workshop Details
Making waves around the world and higher education, Liberating Structures productively and playfully disrupt conventional patterns in how we work together. A repertoire of 33 simple methods changes dramatically the way results are generated without expensive investments, complicated training, or shifts in formal structure.
Explore a quick, compressed model of the Liberating Structures principles!
Discover what can be created using incredible facilitation techniques that empower people to develop collaborative agreements and solutions! 
Gain hands on experience so you can immediately apply Liberating Structures in your everyday interactions!
Receive a copy of the Liberating Structures book and see how the playbook has something for everybody!

Facilitated by the co-author and co-founder of 

Liberating Structures

, this event will be an interactive and engaging day intended for UC San Diego staff or faculty interested in revolutionizing group interactions.

    
Registration Details
Cost: $125.00
Register now via UC Learning Center! (login required)
Testimonials
"Liberating Structures have given me not only many powerful new ways for engaging employees and customers; they have also succeeded beyond my imagination in providing endless new approaches to improve productivity and creativity, all in a fun and enjoyable way!" - President, Healthcare Services & Solutions, Merck & Co
"A treasure trove of simple, practical methods to stimulate critical conversations and liberate the full potential of any group, from the frontline to the C-suite." - Global Programs Senior Advisor, Bill and Melinda Gates Foundation