Give Feedback
Last Updated: November 23, 2022 7:57:40 AM PST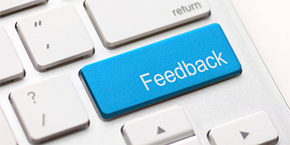 Learn how to provide effective feedback on Blink pages.
Blink is a group effort, and we welcome feedback to keep it up to date and make improvements for you.
How to provide feedback
Click on one of the Feedback links available on Blink pages:
On the bottom left in the website footer
Under the page title, to the right of 'last updated' (not present on the Blink homepage)
Complete the fields with the information below and click Submit.
The feedback tool opens a new window. If your browser does not allow new windows, you can email wts@ucsd.edu with your feedback. Include the information below.
Information to include
Include the URL of the page you are giving feedback on. This is especially important if you are reporting a 404 page not found error as the feedback tool does not report the page that you linked from.
The most helpful feedback includes both the content to be corrected and how to correct it. For example, for feedback on:
Broken links - include the text of the broken link, and the correct destination (if known).
Contact information - include the current contact on the page, and what it should be changed to.