Investigations
Last Updated: January 10, 2021 11:17:58 AM PST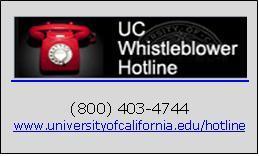 Learn how AMAS assists administrators in safeguarding university resources.
Investigations related to the potential misuse of university resources are overseen by the UCSD Local Designated Official.  AMAS has a fact-finding role in these investigations. These responsibilities, related investigation procedures, and rights of potential "whistleblowers" are described in the UC Whistleblower Policy and UCSD Policy for Reporting and Investigating Improper Governmental Activities (PPM 460-5).
Procedures for reporting suspected abuse
If members of the UCSD community—faculty, staff, and students—have concerns about possible improper activities that may place the University at risk, we encourage them to discuss their concerns with their supervisors, managers or department heads.
We recognize that sometimes an individual would prefer an alternative avenue for reporting concerns about compliance with policies and procedures that allows anonymity or confidentiality. For this reason, concerns about potential fraud, waste, misuse of assets, or non-compliance with University policy may be reported anonymously through the toll-free Hotline at (800) 403-4744 or electronically at www.universityofcalifornia.edu/hotline.
The Hotline operates 24 hours/day, and is designed to respond to concerns about:
Misuse of assets
Fraud and waste
Conflict of interest violations
Health and safety violations
Inappropriate gifts
Entertainment and gratuities
Potential false billings, including patient billings
Reports will be forwarded to the appropriate campus department or program to evaluate the concern. 
Additional resources