Waste bags
Obtain proper red biohazard waste bags. (Marketplace, Chemistry & Biochemistry Stockroom, and Core Bio Services sell bags preprinted with UCSD identification labels in different sizes and quantities.)
Two waste bag must be used. Label both bags — before waste is placed inside — with the following UCSD identification information:
Campus locations
University of California San Diego, 9500 Gilman Drive, La Jolla, CA 92093, (858) 534-4357
Building name and room number where the waste was generated
Campus Address Label Template (Word file)
Medical Center locations
UCSD Medical Center, 200 West Arbor Drive, San Diego, CA 92103, (619) 543-6222
Building name and room number where the waste was generated
Medical Center Address Label Template (Word file)
Collect and seal dry waste in double biohazard waste bags. Take sealed bags to your building's designated collection/container site. Check with your lab or department manager for locations.
Biomedical waste containers
Secondary containers must be disinfected after removal of biohazard waste bags: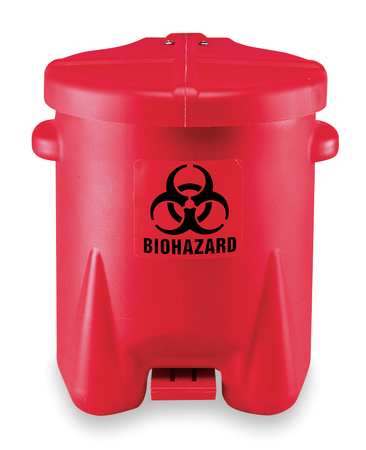 Exposure to hot water of at least 82

°

Centigrade (180

°

Fahrenheit) for a minimum of 15 seconds.
Exposure to chemical sanitizer by rinsing with, or immersion in, one of the following for a minimum of three minutes:

Hypochlorite solution (500 ppm available chlorine)
Phenolic solution (500 ppm active agent)
Iodoform solution (100 ppm available iodine)
Quaternary ammonium solution (400 ppm active agent) 
Gray biohazardous waste barrels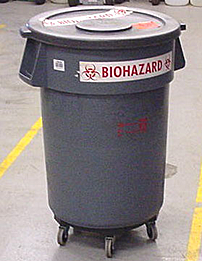 Large, gray plastic BIOHAZARD waste collection containers (image at right) in 22 and 44 gallon sizes are available free from EH&S Environmental Management Facility (EMF).
BIOHAZARD containers provide convenient storage for dry biohazardous waste. The wheeled containers have a secure lid and are labeled BIOHAZARD. Containers are free, but labs must purchase red biohazard waste bags to line the containers – 2 per container.
How to use gray waste collection containers:
Line the container with 2 red biohazard waste bags. Put only DRY biohazardous waste in the container.
Full sharps containers that are properly labeled and sealed must be placed into the gray plastic BIOHAZARD container.
What NOT to put in gray waste container:
No fluids
No carcasses
No extremely hazardous chemicals or radioactive chemicals
No non-hazardous waste – examples include glucose, buffers, and saline solution
No mixed waste – items contaminated with more than 1 category of hazardous waste (biological + chemical or radioactive contamination)
No loose sharps – Hypodermic needles, syringes with attached needles, scalpels, razor blades, and broken glass must be disposed of in a rigid, plastic sharps container. Only full, properly labeled and sealedsharps containers can go in the gray plastic BIOHAZARD container.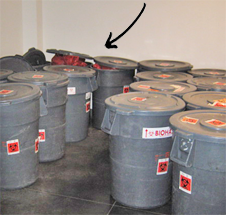 When the BIOHAZARD container is full, tie off the 2 inner liners and wheel the container to the biohazardous waste consolidation area for your floor or building. Do not overfill containers! Keep the lid closed when waste is not being added. (See image at right. Over-stuffed and unclosed containers violate County hazardous waste regulations.)
Replacement containers are available in the consolidation area. Full containers are collected for disposal by EH&S waste technicians. The containers are sanitized by a biohazard waste vendor, returned, and placed in service.
See the Hazardous Waste Menu for detailed packaging, labeling, container, storage and disposal requirements for these and all other categories of hazardous waste generated at UC San Diego.