Chemical Fume Hood Baffle Adjustments
Chemical Fume Hood Baffle Adjustments
Last Updated: June 25, 2014 9:03:18 AM PDT
Read about positioning adjustable fume hood baffles for improved air flow and containment.
Some chemical fume hoods are equipped with adjustable baffles located at the top and bottom of the hood's work area. Using a lever on the front of the hood, slots in the baffles can be adjusted in size to provide control over air flow within the hood. Follow Chemical Fume Hood Use Guidelines for general best practices.
If your fume hood is equipped with adjustable baffles, select the best baffle position for the type of work being performed:
Position A provides the best performance for most fume hood uses.
Contaminants typically mix quickly with air to form mixtures, which have almost the same density as air. Open top and bottom baffles to provide good flow in the lower and upper parts of the hood work area.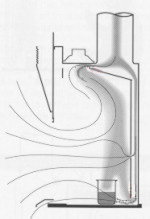 Position B gives the best containment when a large hot plate is used in the hood.
Heat causes contaminants to rise. Narrow the lower baffle and enlarge the top to increase the amount of air exhausted from the upper part of the work area.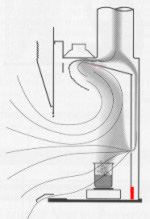 Position C is used for work involving heavy vapors, such as halogenated solvents.
Large volumes of very dense vapors tend to sink within the hood. Narrow the top baffle and enlarge the bottom to increase the amount of air drawn through the lower work area.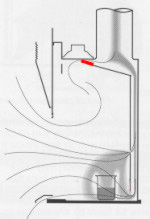 Images and information source: Kewaunee Scientific Corporation, "Supreme Air Series Fume Hoods," P.O. Box 1842, Statesville, N.C., 28687-1842, page 69.