Oracle 22A Updates (Mar. 2022)
Oracle 22A Updates (Mar. 2022)
Last Updated: March 23, 2022 3:33:26 PM PDT
Track all the changes and updates coming to Oracle Redwood in March 2022.
Click to download the Oracle 22A Feature Summary.
Global/Cross-Module Changes


Updated Oracle ADF Desktop Integration Add-In
When using one of Oracle's excel integration add on, you may be prompted to update the add on.
404 Sign Out Error
When signing out of Oracle, you may experience a 404-error page like the image below. You were successfully logged out but were redirected to the wrong sign out confirmation page. We are working with Oracle to resolve this issue as quickly as possible.

Manage Project Costs Detail Page Rename
When drilling down into a project cost, the name of the page has been updated from "Expenditure Item" to "Project Cost Transaction" for a consistent approach with the business object name.
---
Source Transaction Number Displayed on Related Burden Transaction
As of March 21, 2022, burden (IDC) transactions will now display the source transaction that the burden cost was generated from. The source transaction number will be populated for older burden transactions that were generated after November 2021.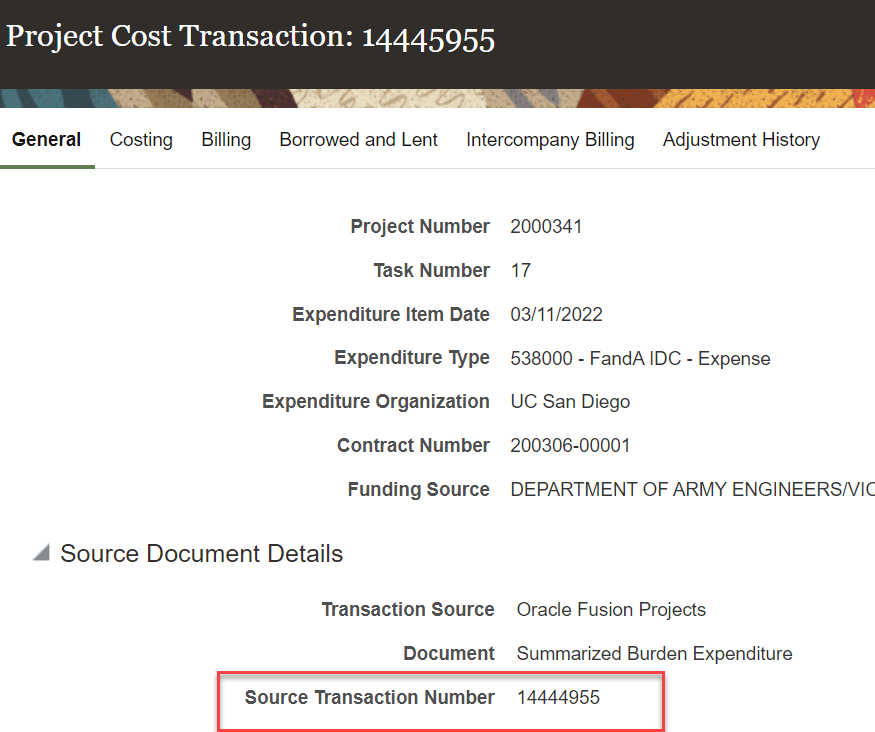 ---

Upfront Validation of Project Cost Adjustments Before Initiating Approval Workflow
As of March 21, 2022, view validation messages in real time when adjusting a single project cost. When a validation message occurs, users must take corrective actions prior to submitting an adjustment for approval. These validation messages only apply when adjusting a single cost, not when multiple costs are being adjusted at once. We will continue to work with Oracle for upfront/clearer validations for multiple costs
Please note that not all violations will result in an error message as they rely on derivations that are performed later in the adjustment process (for example, budgetary control). As a best practice, navigate to the Adjustment History to confirm the Adjustment Status.
In the example below, EI date = 12/01/2021 and Project End Date = 09/30/2021 displays a validation message.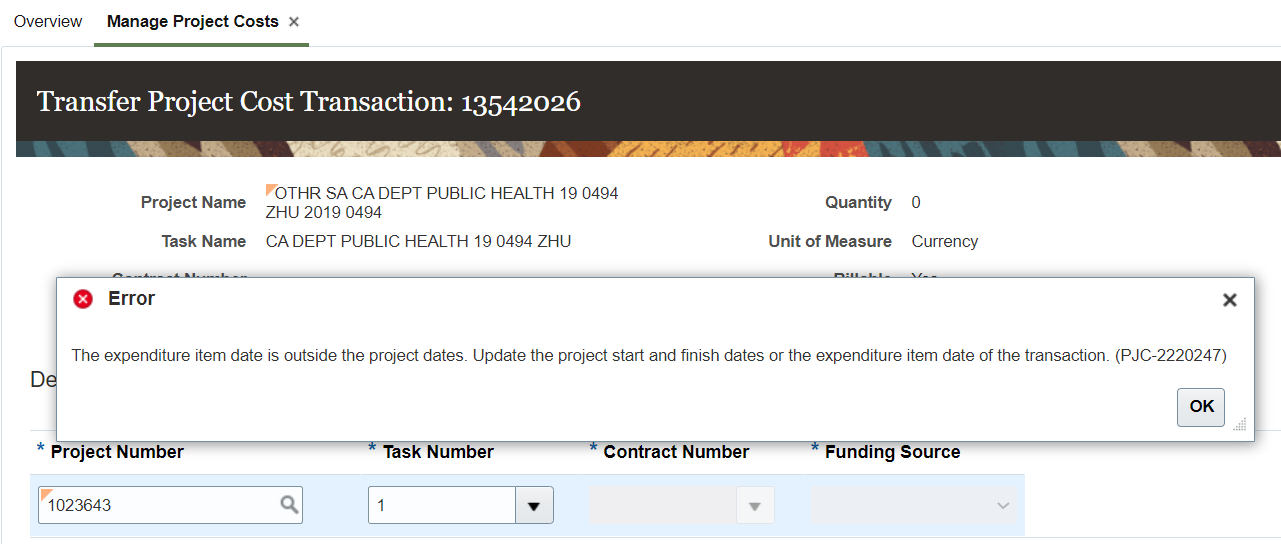 Fixed in 22A: Required Expenditure Organization in Awards > Manage Project Costs
When drilling down to Manage Project Costs from an Award, the Expenditure Organization Field was required, restricting the ability to efficiently search for costs. As of March 21, 2022, this field is no longer required allowing for additional search functionality.
Pre 22A:

Post 22A: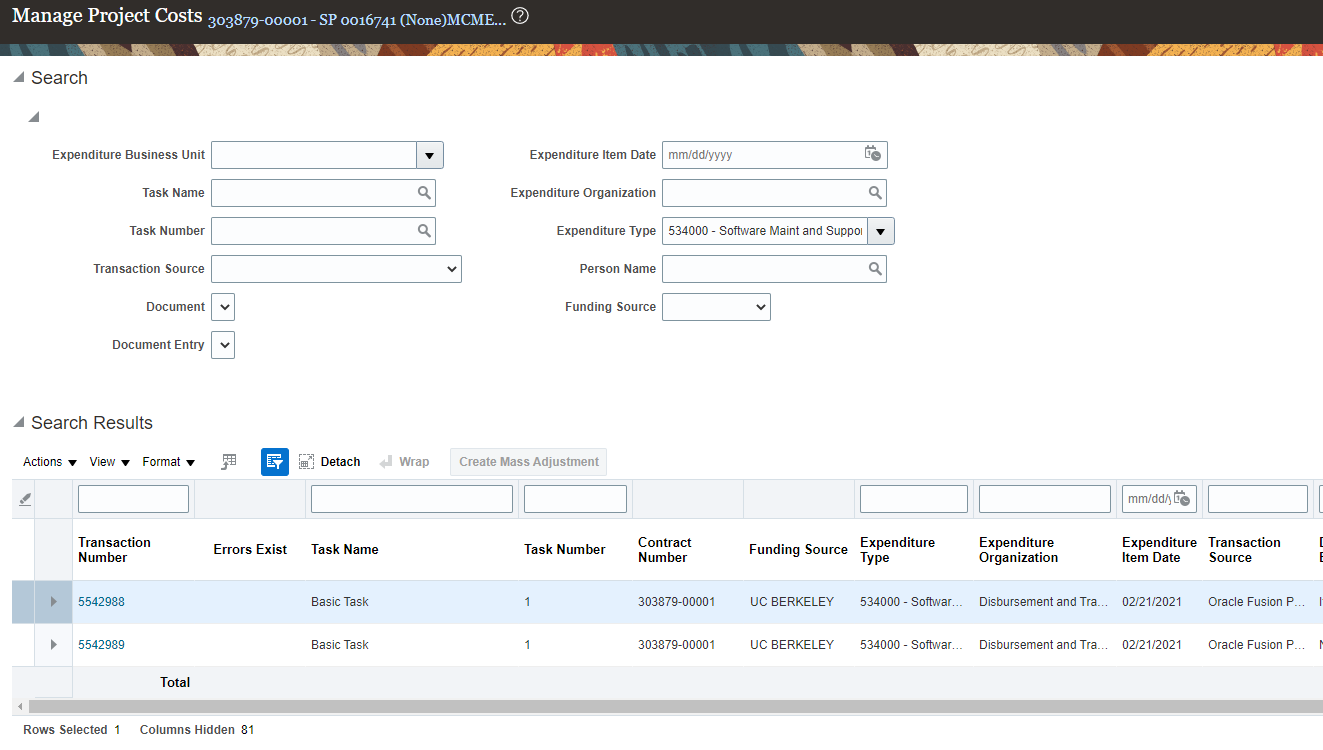 ---
Fixed in 22A: Award Project Cost Drill Down - Sort Issue
When navigating to Manage Project Costs from an Award and sorting by Task Number, an error is returned. As of March 21, 2022, this error should no longer occur.
Pre 22A: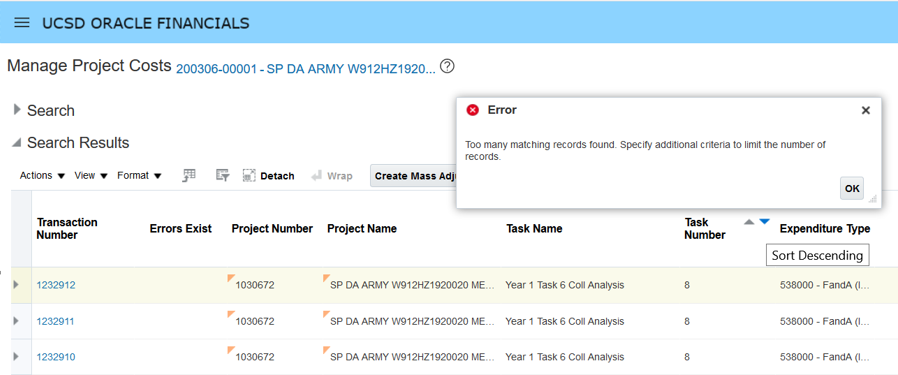 Post 22A: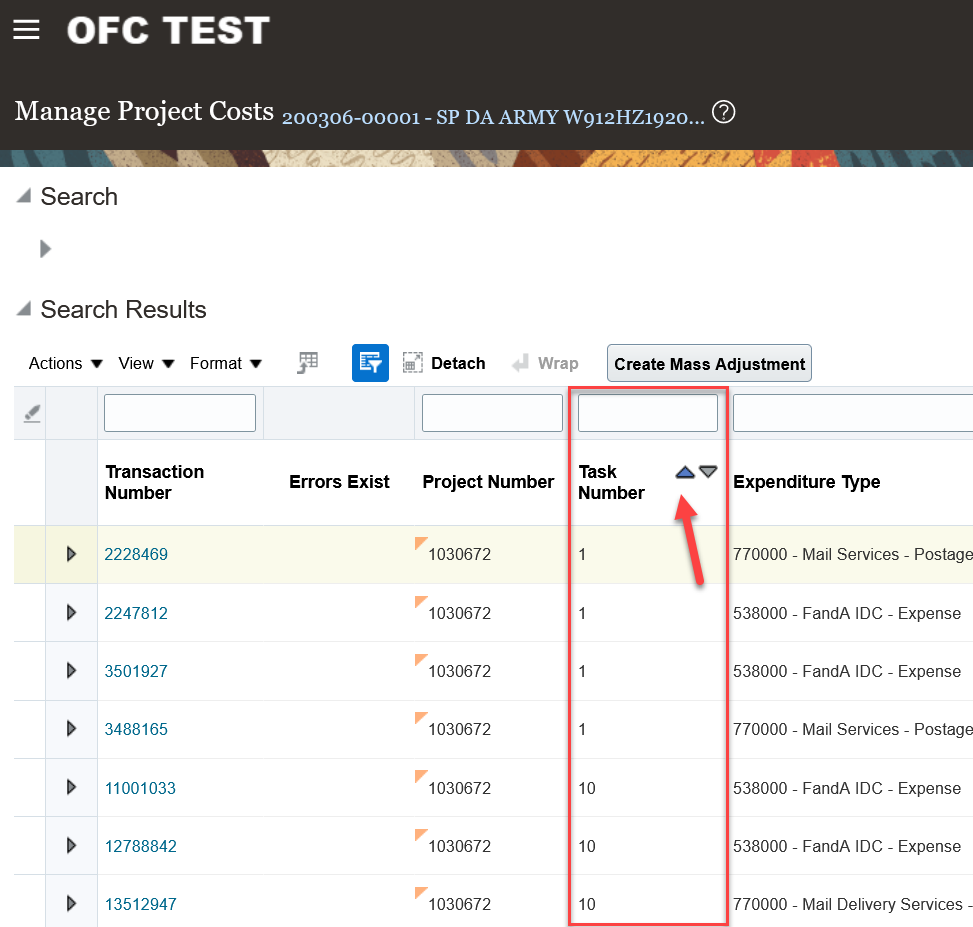 ---
Fixed in 22A: Slowness when selecting mass costs to be transferred
When selecting multiple costs to be transferred, the system has a lag with indicating which rows are selected. The mouse needs to stop displaying as a spinning blue circle before the next cost can be selected. As of March 21, 2022, users should be able to more quickly select multiple costs on the Manage Project Costs page but you still need to wait for the circling to stop before taking action, but ability to multi select faster is now enabled.