MyLeaveBalances Overview
Last Updated: August 3, 2021 4:41:48 PM PDT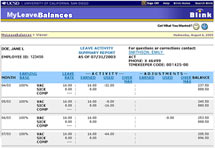 Learn how to view an online summary of your leave balance, including vacation, sick time, and compensatory time activity, with the new MyLeaveBalances tool.

Note: Current leave information can be accessed in UCPath. MyLeaveBalances includes data up to 2020.

All UC San Diego staff and faculty who are eligible to accrue or use leave and have an official UC San Diego e-mail address can use this tool to view their own sick, vacation, and compensatory leave activity and balances for a four- or twelve-month period.

How to view your leave balances:
Log into MyLeaveBalances with your business systems account.
For questions about your leave balances, contact your timekeeper (available on your MyLeaveBalances screen) or contact
Payroll
. For technical questions, contact the
ITS Service Desk
, (858) 246-4357
Note: This page has a friendly link that's easy to remember: http://blink.ucsd.edu/go/myleave