Staff Sustainability Network: Programs
Last Updated: April 14, 2023 4:06:52 PM PDT
Learn about SSN's virtual and on-campus engagement efforts.
Outreach & Engagement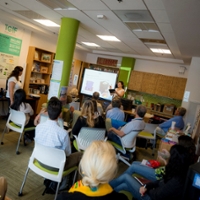 Our members collaborate with teams and departments to improve sustainability practices on campus. We support programs, such as Green Office, Green Labs, as well as annual events, such as Earth Plaza Palooza.
Zero Waste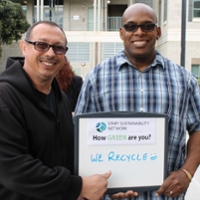 SSN and UC San Diego Sustainability partner to bring zero-waste programs and events to campus. One example is the 2019 Staff Summer Celebration, where 97% of the event's waste was diverted from landfills — mostly to compost.
Planning an event? Check out SSN's Guide to Hosting a Zero-Waste Event (PDF).
Tree Tours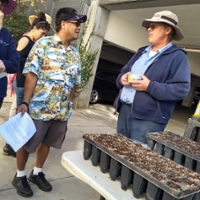 Join us for Tree Tours, a monthly lunchtime walk, where you can learn about unique trees on campus. Arborists will share how they grow many kinds of trees and how trees make UCSD a vibrant place to work and learn. Keep branching out with us: We'll explore a different area of campus each month.