Staff Sustainability Network: Home
Last Updated: September 3, 2020 10:12:06 AM PDT

About Us
Mission
Bring awareness, transparency, and collaboration to existing campus sustainability efforts
Support new opportunities for positive impact
Connect with staff, students, faculty, alumni, and community members with similar eco-passions
Benefits of membership
Participate in activities and events that promote sustainability awareness

Networking opportunities to meet people from the campus and community

Discover resources and organizations dedicated to sustainability issues
Meetings
See our Google Calendar for the date, time, and location of upcoming meetings. **Meetings are being held online due to COVID-19. See Google Calendar for meeting details.

Monthly general meetings typically alternate between morning guest speakers and lunchtime discussions/tours (Lunch & Learns). This helps more members to attend and encourages us to cover a greater variety of topics. Email us with any questions or topic suggestions.
Executive Board meetings are held the 3rd Monday of the month from noon to 1 p.m. at the Sustainability Resource Center (map), except on UCSD holidays.

**Meetings are being held online due to COVID-19; see Google Calendar for meeting details.

SSN members and sustainability-interested staff/faculty are all welcome to attend. (Interest in serving on the Board is not required.)
Events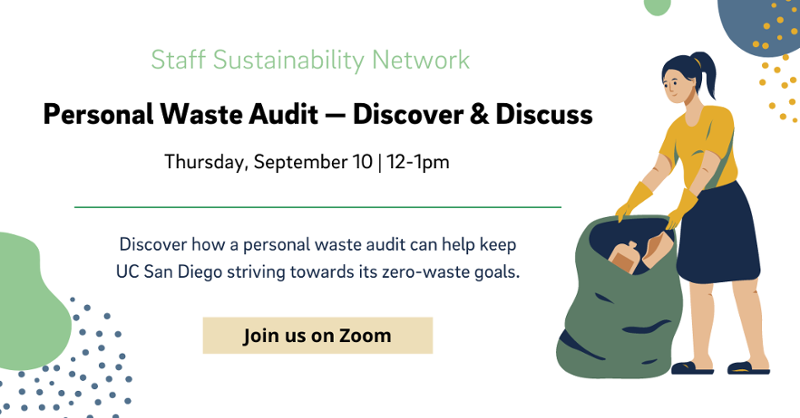 Personal Waste Audit — Discover & Discuss
September Meeting
Thursday, September 10 / 12-1pm
UC is stepping up its game in taking a stand against waste and so is SSN. This month, conduct a personal waste audit to discover how much waste flows through your daily life. Use our how-to guide (PDF) to conduct your audit, and then join us on September 10 to share what you learned. We'll, of course, discuss ways to reduce our waste at home and on campus. Remember, the goal is not zero-waste perfection—but to make bolder changes over time that benefit our well-being, campus, and San Diego community.

Get Involved
How to join
Interested in becoming a member of the Staff Sustainability Network (SSN)? See our Get Involved page, or go straight to the Interest & Membership Form.  
Questions?
Contact Membership Chair Cindy Perez.
Stay connected
Subscribe to our newsletter and follow us on Facebook!
Keep us posted
Want to share UCSD sustainability news, events, or other relevant resources with SSN members?
Contact Communications Chair Kate Jirik.
Share your ideas
Have a great idea for SSN?
Submit it to our Idea Cloud.
Learn about UC San Diego Sustainability
For more information about campus sustainability efforts, contact:
Jen Bowser
Sustainability Resource Center Manager, UC San Diego
Email: jbowser@ucsd.edu
Phone: (858) 534-8266
Featured Programs
Events and Outreach
Our members collaborate with teams and departments to improve sustainability practices on campus. We support programs, such as Green Office and Green Labs, as well as annual events, such as Earth Plaza Palooza.
Zero Waste
SSN and UC Sustainability partner to bring zero-waste programs and events to campus. One example is the 2019 Staff Summer Celebration, where 97% of the event's waste was diverted from landfills (mostly to compost).
Planning an event? Check out SSN's Guide to Hosting a Zero-Waste Event (PDF).
Transportation
Bus Buddies
Team up with Bus Buddies – UCSD's new ambassador program to promote public transit and alternate commute methods. Let's make the bus riding experience better for us all!
Campus Life
Tree Tours
Join us for Tree Tours, a monthly lunchtime walk, where you can learn about unique trees on campus. Arborists will share how they grow many kinds of trees and how trees make UCSD a vibrant place to work and learn. Keep branching out with us: We'll explore a different area of campus each month.
Virtual Sustainability Tour
Explore campus resources by taking the UC San Diego Virtual Sustainability Tour (on map, click on a pin or image to learn more about a landmark).