RA Appreciation Day 2017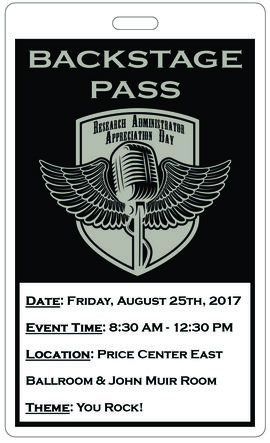 Research Administrators serve an important role in supporting research which is why we want to celebrate the critical role they play at UC San Diego. Join us for a rockin' morning of appreciation including a message from Sandy Brown, light refreshments, goodies and giveaways. 
How to register
Visit Event Brite and click on the green "REGISTER" button at the top. You will also find more details about the event on the page. 
Photo Contest
As part of this year's Research Administrator Appreciation Day (RAAD) event we are holding a department photo contest! The goal is to celebrate the teams who support sponsored research and to showcase your department's mission and appreciate the critical role Research Administrators play at UC San Diego. Winners will be selected by the RA Training Program Development Committee and announced at the RAAD event on August 25th.
Rules:
Photo must display the RAs' role, and demonstrate your department/team's mission
Only one submission per department
Members in the photo must play a role in supporting research administration/sponsored research
Photos must be submitted by 5 p.m. on August 3rd to be considered 

Please provide the department name and the name and position of each individual in the photo
Prizes:
Members in the winning photo will receive RA Training Program fleeces
Bragging rights for being awesome!
And remember to have fun with it and get creative! If you have any questions contact Nicole Joyce at njoyce@ucsd.edu or at ext. 61902.