Large-Format Printing
Last Updated: September 14, 2022 1:31:35 PM PDT
Triton Print & Digital Media can produce high-quality color or black-and-white banners, signs and displays from scanned materials or digital files.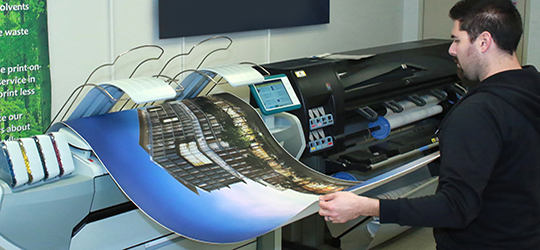 If you need design assistance, contact Customer Service, (858) 534-3020. Triton Print & Digital Media offers these design and graphics services:
Complete design service or consultation
Art and photo scanning
File preparation
Vivid photo inks produce bright, high-detail photographic quality images on the following substrates and may be used outdoors with limited weather and sun exposure:
50-pound bond is a heavyweight, bright white paper and an excellent choice for indoor posters and signs.
Photo papers in either satin or gloss finish make photos pop. Recommended for interior use.
Backlit film for photo-quality images, used in indoor or outdoor sealed boxes.
Cotton canvas is an ideal choice for art reproduction.
Polypropylene is an excellent and economical choice for one-time indoor or outdoor presentations. It cannot be mounted or laminated.
Adhesive vinyl can be repositioned.
Scrim vinyl is a waterproof material suitable for large, hanging banners for outdoor use.
Tyvek is a durable medium that can be used indoors or outdoors. It stands up to repeated, prolonged use.
Water-based latex inks produce bright, durable, and flexible POP displays, soft signage, vehicle signage, and more. Create long-lasting outdoor signage (3 years unlaminated, 5 years laminated) on the following substrates:
Heavy weight coated paper
Satin and photo-realistic poster paper
Matte polypropylene
Reinforced banner (available in double-sided format by special order)
Scrim banner
Light and heavy weight textile display banner
Tyvek
Satin canvas
Available by special order (additional 5-7 day turnaround time; Triton Print & Digital Media does not install):

Adhesive gloss or matte vinyl
Perforated adhesive window vinyl
Backlit film
Wall paper
Vehicle wrap material
The maximum size for posters, banners, and signs is 60 inches by 129 inches.
Select the finishing option based on how you'll use the document. For example:
Laminating provides durability and protection from the elements. Cannot be used with polypropylene or Tyvek.
Grommeting creates finished holes for hanging banners and signs. We include 4 grommets with each banner per your request.
Mounting on foam core or gator board provides rigidity for standing displays and exhibits.
A retractable banner stand makes carrying and displaying a banner easy.
Our standard banner stand is 31.5 inches wide, and will hold banners up to 91 inches long. You can purchase one for $133.76 or rent one at the rates shown below.
If we print your banner at the same time the stand is rented:
The rental rate for the banner stand is $7.50 per day or $30 for 5 calendar days.
We will deliver your banner preloaded in the stand.
To rent a stand for a banner you provide:
The rental rate for the banner stand is $15 per day or $50 for 5 calendar days
Your banner will not be preloaded by Imprints.
Contact us for additional sizes and rates.