UC Asset Protection Plan (UCAPP)
Last Updated: October 20, 2022 10:27:53 AM PDT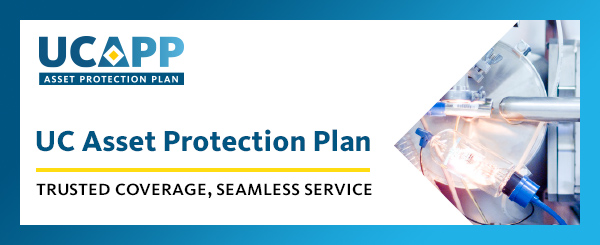 Find out about the new UCAPP brought to you by Integrated Procure-to-Pay Solutions and Risk Management.
Dear Remi Insurance Accountholder,
Fiat Lux Risk and Insurance Company has purchased the equipment service coverage program for UC accountholders previously held by the Remi Group. As of March 1, 2021, your equipment service coverage agreement became part of Fiat Lux's services.
Fiat Lux is the University of California's wholly owned insurance company, providing coverage for liability, property, workers' compensation, medical professional liability, auto, cybersecurity and 35 other lines of coverage. One line of coverage is the University of California Asset Protection Plan, or UCAPP, a program designed to decrease overall maintenance and repair expenses of university-owned equipment.
Since UCAPP offers a lower-cost equipment maintenance plan compared with original equipment manufacturer (OEM) agreements, you will see future savings as UCAPP participation grows.
Rest assured that your coverage will not be interrupted. Your costs and coverage will remain the same as current amounts, and you will continue to experience top-notch service when you need repairs.
Important! Premium invoices will now reflect payment (a UC intercampus recharge) to UCAPP instead of the Remi Group.
Benefits:
Trusted Coverage, Seamless Service
UCAPP matches your original equipment manufacturer (OEM) coverage at a lower cost — save up to 25% off your current quote or contract. That means more money stays within your UC department operating budget. Think about what you could do with that savings!
Choosing UCAPP means you:
Enjoy deeper service discounts with the savings passed on to you
Have easy and convenient service at your fingertips for all your equipment needs
Keep funds within UCAPP instead of paying outside vendors
Avoid the hassle of multiple vendors and phone numbers when you need help
Have trusted coverage with the UC name to back it up
Don't want to give up your current vendor? No problem. When you switch to UCAPP, you can generally stay with your OEM or third-party service vendor. We'll even review your existing contracts to ensure you get the right coverage for your needs — and we'll adjust the service terms annually instead of tying you to multiyear contracts, while maintaining your multiyear discounts.
Plus, UCAPP is more flexible than OEM or independent service organization (ISO) contracts because we can use multiple repair services and add or remove equipment from UCAPP coverage, prorated to the day.
Getting started:
Send us a copy of a current quote or your existing contract and quickly receive a quote for UCAPP coverage at a discounted cost. Click on link for more details UCAPP.
To place a service request:
Call (888) 728-2153 and provide the item or serial number, location of equipment, name and number of on-site contact person, and the reason for the service call.
UCAPP will provide you with a job reference number and contact the service vendor on your behalf, the same as the Remi Group has done in the past.
The service vendor will contact you directly to schedule repairs or maintenance. Once service is complete, a report and invoice will be sent to UCAPP, which will then pay the service vendor.