LHM 2023 Calendar of Events
The calendar for Latinx Heritage Month 2023 is being updated regularly. Keep checking back for more programs and events!
See Calendar
LHM 2023: Please Give
In honor of Latinx Heritage Month, we encourage you to support the key funds that celebrate our Latinx/Chicanx community and move us closer to our goal of becoming a Hispanic-Serving Institution (HSI).
Donate
Thank you to our 2022 Latinx Heritage Month Sponsors!
Previous
Next
Calendar of Events
Join UC San Diego to commemorate the 3rd Annual Latinx Heritage Month. Check back later for a complete calendar of events!
Reconocimiento de Tierra
La comunidad de UC San Diego guarda un gran respeto por la tierra y la cultura original del área donde el día de hoy se encuentra edificado nuestro campus. La universidad está construida en un territorio que no fue cedido por la Nación Kumeyaay. Hoy, el pueblo Kumeyaay continúa manteniendo su soberanía política y tradiciones culturales como miembros esenciales de la comunidad de San Diego. Reconocemos sus importantes contribuciones a nuestra región y les agradecemos su administración.
Land Acknowledgement
The UC San Diego community holds great respect for the land and the original people of the area where our campus is located. The university is built on the un-ceded territory of the Kumeyaay Nation. Today, the Kumeyaay people continue to maintain their political sovereignty and cultural traditions as vital members of the San Diego community. We acknowledge their tremendous contributions to our region and thank them for their stewardship.
Latinx Heritage Month Commemoration Event
This year's Latinx Heritage Month Commemoration Event will be held on October 25th from 11:00 a.m. - 1:00 p.m. in the Price Center West Ballroom. This year's theme is "Todos Somos, Somos Uno: We Are All, We Are One."
Latino Americans on PBS
LATINO AMERICANS is the first major documentary series for television to chronicle the rich and varied history and experiences of Latinos, who have helped shape North America over the last 500-plus years and have become, with more than 50 million people, the largest minority group in the U.S.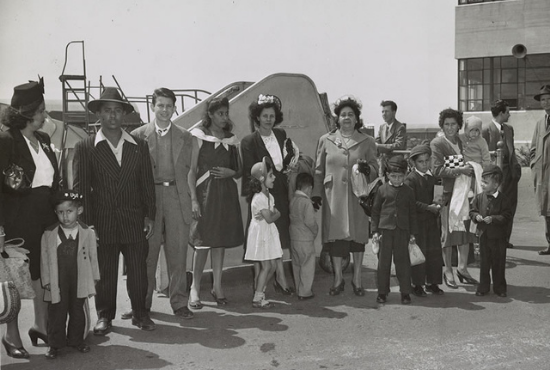 Support Latinx/Chicanx Community
UC San Diego's Latinx community is growing and we are making strides investing in the resources necessary for it to flourish. In honor of Latinx Heritage Month, we encourage you to support the key funds that celebrate our Latinx/Chicanx community and moves us closer to our goal of becoming a Hispanic-Serving Institution (HSI). Your gift builds a campus where inspiring UC San Diego students achieve their academic and professional dreams, while becoming changemakers in their field.
LHM 2023 Planning Committee
Special thanks to: Mario Garibay, Roberta Camarena, Robert Castro, Maria Salgado, Ramon Hernandez, Maria Rodriguez, Rubia Hernandez, Erika Johnson, Chloe Leal, Donnet Montanez, Omar Padilla, Kenia Quinonez, Nataly Rojo, Amanda Rubalcava, Jennifer Schwarzkopf, Amanda Sullivan, Amber Vlasnik, Madisen Martinez, Claudia Pena, Angelo Colon, Thalia Roman, Berenice Jau, Ramon Hernandez, Elizabeth Bradshaw, Albert Agbayani, Pauline France.
Special thanks to the Office for Equity, Diversity, and Inclusion: Maddy Agamata, Norma A. Nava, Jocelyn De Jesus, Christina Torres, Karla Ramirez, Lexi Zheng, Brandy Ellis, and Belinda Zacoma
LHM 2022 SPONSORS
Thank you to our LHM 2022 sponsors: Admissions, Advancement, Alumni Engagement, Art & Humanites, Athletics, Black Resource Center, Chancellor's Community Advisory Board, Chancellor's Office, Chicanx Latinx Studies, CREATE/E.A.O.P, Cross-Cultural Center, Department of Medicine, Division Of Extended Studies, Eleanor Roosevelt College, EVC Office, Financial Aid, Geisel Library, Graduate Education & Postdoc Affairs, Housing Dining Hospitality (Human Resources), Housing Dining Hospitality (Residential Experience), Human Resources, International Initiatives/Global Education, Jacobs School Of Engineering (JSOE), Marshall College, Medical Education, Muir College, O.A.S.I.S., Physical Sciences, Rady School Of Management (RADY), Raza Resource Centro, Revelle College, School Of Medicine, Scripps Institute Of Oceanography (SIO), Seventh College, Sixth College, Social Sciences, Student Life, Student Retention Services (SRS), Supercomputer Center (SDSC), Teaching + Learning Commons, University Centers, VC Research Affairs, VC Chief Financial Officer, VC Equity, Diversity, and Inclusion, VC Health Sciences, VC Resource Management & Planning, VC Student Affairs, Warren College.

Return to Learn Safety Guidelines
For in person events, all existing COVID-19 safety protocols must be adhered to. Visit the Return to Learn site for guidelines and other resources.