Biosafety
Last updated December 10, 2013 10:32:32 AM PST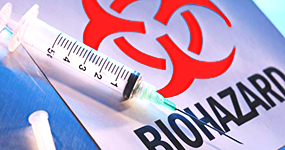 Learn about UC San Diego's institutional Biosafety Program.
EH&S will have minimal staff on duty and services will be curtailed during the official Campus Holiday Closure.
UCSD Biosafety Program
UC San Diego's Biosafety Program identifies responsibilities, facility contruction, operational standards, and authorizations required to conduct research and teaching activities with regulated biological materials.
The Biosafety Program does not apply to UCSD medical centers or clinics directly covered under the UCSD Medical Center license.