This Web-based Chemical Hygiene Plan and UCSD's Laboratory Safety Manual must be readily available to personnel in UC San Diego facilities where hazardous chemicals are present.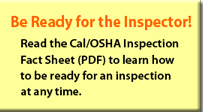 UC San Diego's Chemical Hygiene Plan (CHP) provides for and supports procedures, equipment, personal protective equipment, and work practices to protect personnel from the potential health and physical hazards of laboratory work with hazardous chemicals, and complies with California Occupational Safety and Health Administration (Cal/OSHA) Occupational Exposure to Hazardous Chemicals in Laboratories, CCR Title 8, §5191.
Never work alone when hazardous chemicals are involved.