Corridor Safety Requirements
Last Updated: January 22, 2016 8:59:33 AM PST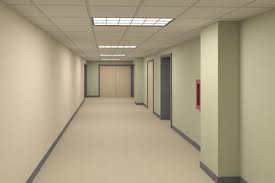 Learn what is permitted and prohibited in UC San Diego building corridors.
UC San Diego has a campus policy for permissible and prohibited use of equipment and storage of materials in corridors to ensure building occupants have a clear and safe exit pathway in an emergency.
Corridor: Any passageway connecting individual rooms and spaces to an exit door, stairwell, or other area of refuge
Equipment: Anything requiring electrical power to operate (copy machines, ATMs, vending machines), or which occupies a permanent footprint on the floor
Material: Other items such as file cabinets, desks, chairs
In general, the following restrictions apply to all corridors:
Nothing may obstruct the required minimum width of a corridor.
Corridors may never be used as routine work spaces.
Note: Corridor safety requirements also apply to the pathway out of large rooms and laboratories. Unobstructed corridors are of little value if you can't get to them.
Any equipment, material, or activity obstructing passage through a corridor is prohibited. Specifically prohibited equipment, materials, and activities are described below.
Maintain a clear area around corridor eye washes, emergency showers, and fire extinguishers. Anything that interferes with the use of corridor safety equipment is prohibited.
Never store or use hazardous materials in a corridor.
Examples of items that are not permitted include, but are not limited to:

Refrigerators
Copy machines
ATMs
Storage cabinets (metal or wood)
Cardboard or wooden boxes
Pallets of chemicals
Trash or recycling receptacles
Compressed gas cylinders containing toxic or flammable gases
Water bottles
Flammable liquid storage cabinets
Small cryogenic liquid dewars
Decorative materials

Remove unauthorized items promptly within the required timeframe:

Immediately if material is hazardous (compressed gases, hazardous chemicals, etc.)
Within 30 days if the item is non-hazardous
Note: If you're in a healthcare setting, fire safety requirements are more restrictive. Nothing can be stored in hospital or clinic corridors. Contact Medical Center Safety and Security Services, (619) 543-7575, for more information.
Note: Only equipment or material authorized and tagged by Environment, Health & Safety (EH&S) may be placed in a corridor.
Authorized equipment and materials must meet the following criteria:

Conform with state fire marshal regulations
Be secured against movement during an earthquake
Be noncombustible or of limited combustibility

Equipment and materials that may be authorized by EH&S include the following:

Metal file cabinets equipped with positive-locking drawers to prevent inadvertent opening during earthquakes
Bulletin boards that meet the following requirements:

Greater than 4 square feet must have frames and glass fronts
Greater than 9 square feet must have locking mechanisms in addition to frames and glass fronts

Pressurized containers of liquefied cryogenic gases (e.g., nitrogen) secured to the wall with a top-ring tether
Compressed inert gas cylinders, for storage only (e.g., argon, helium, neon, nitrogen, krypton, carbon dioxide), secured to a substantial, fixed surface with upper and lower chains

Contact EH&S Fire & Life Safety, (858) 534-3659, to request authorization to place equipment or material in a corridor. EH&S will tag authorized items to indicate approval has been granted.
Note: this page has a friendly link that's easy to remember: http://blink.ucsd.edu/go/corridor
Notice: In case of fire, your first responsibility is to escape unharmed and sound the alarm. Use a fire extinguisher only if you have been trained to use one and you have a clear exit path behind you.