Kuali Conflict of Interest
Last Updated: February 3, 2023 10:43:58 AM PST
Learn about Kuali COI, a secure, user friendly, web based system for UC San Diego faculty and staff to submit and manage their conflict of interest disclosure activities. Kuali COI is live on January 21, 2020.

Kuali COI Office Hours
The Conflict of Interest (COI) Office will host Kuali COI Office Hours every Wednesday from 11:00 a.m. - 12:00 p.m. beginning January 4, 2023.  The UC San Diego research community can sign up and have an experienced COI team member provide one-on-one guidance on submission of COI disclosures in Kuali COI as well as other conflict of interest related questions.  To sign up, please visit www.calendly.com/ucsdcoioffice.  The sessions are for 15 minutes; however, the time can be extended.  The appointment confirmation will include a direct link to the zoom session. 
Kuali COI Tutorials
COI for Kuali IRB 
All study team members are listed in Study Personnel in Kuali IRB application. Those Researcher's with a potential conflict of interest* will need to mark "yes" under the conflict of interest question within Kuali IRB.

Potential Conflict of Interest Definition:

Any Researcher including their spouse or registered domestic partner, and/or their dependent children, participating in human subject research and have a potential conflict of interest, which refers to a situation in which outside interest(s) may compromise, or have the appearance of compromising, a Researcher's professional actions or judgments in the design, conduct, or reporting of their research results must disclose a conflict of interest in Kuali COI.  Interest(s) also includes being an inventor of a UC San Diego intellectual property being used in the human subjects study. 



Depending on funding source, type of activity and role of an individual on a project, please refer to COI for Kuali IRB.

 
About Kuali COI
The Kuali COI system will: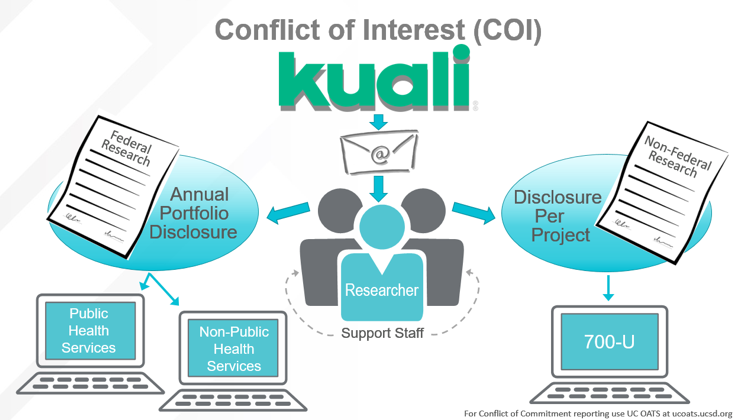 Determine which conflict of interest regulations the researcher needs to complete, taking all the guesswork out of the historical paper forms
Send an email to the researcher with a direct link to Kuali COI embedded in the email
Allow researchers to assign specific support staff as "delegates" to assist
Learn more with this demo video:
Contact the Conflict of Interest Office at
info-coi@ucsd.edu
or (858) 534-6465 for more information.