Kuali Conflict of Interest
Last Updated: March 8, 2021 8:57:16 AM PST
Learn about Kuali COI, a secure, user friendly, web based system for UC San Diego faculty and staff to submit and manage their conflict of interest disclosure activities. Kuali COI is live on January 21, 2020.

Kuali COI Tutorials
Kuali COI Consultations
Schedule a half-hour session with a member of the Conflict of Interest (COI) office to learn more about Kuali COI, enter your financial interests and ask questions.
About Kuali COI
The Kuali COI system will: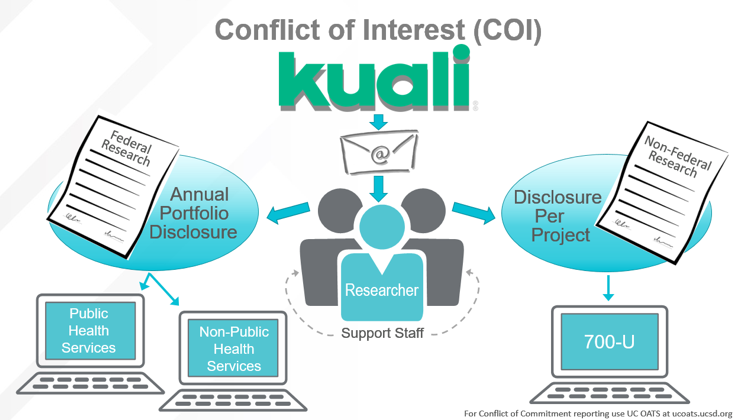 Determine which conflict of interest regulations the researcher needs to complete, taking all the guesswork out of the historical paper forms
Send an email to the researcher with a direct link to Kuali COI embedded in the email
Allow researchers to assign specific support staff as "delegates" to assist
Learn more with this demo video:
Contact the Conflict of Interest Office at
info-coi@ucsd.edu
or (858) 534-6465 for more information.