DocuSign: Overview for Senders
Last Updated: August 31, 2017 1:40:39 PM PDT
Find out how to create envelopes and send forms to signers.
Basics
To send documents for electronic signatures in DocuSign, you will work with two key elements:

Documents are the actual files that require signatures. You will add tags to the document so your signer knows where to input information.

Envelopes are the packages that documents are sent in. To set up your recipients, delivery settings, including messages, you will edit an envelope.
Start your envelope first - You will need an envelope with at least one Signer or Acknowledge receipt recipient in order to add tags to your document.
Navigation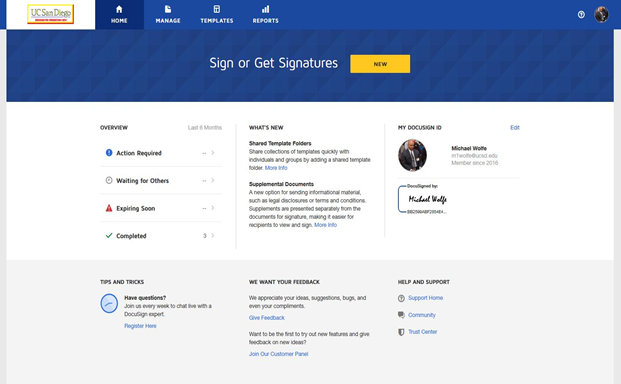 Use the Navigation Tabs to access DocuSign functions:
Get Started: information about DocuSign. This tab is the default tab used when you first log in to the web application.
Home: quick links to Envelope Status, Recent Events, your Toolbox, ID card, Quick Tips and DocuSign Support information.
Manage: access to envelope folders, all your envelopes, search folders and templates associated with your account. You can also create Envelopes, Templates, and PowerForms from this tab.
Templates: used to manage and locate Templates you have created.
Reports: access to the DocuSign standard reports.