Hazard and Caution Signs
Last updated March 10, 2010 5:14:01 PM PST
Learn about hazard and caution signs you may see at UC San Diego and what they mean.
Hazard and caution signs identify facilities where work involves hazardous chemicals, infectious biological agents, radioactive materials, or equipment such as lasers, high voltage systems, or powerful magnets. These materials and equipment are generally controlled and contained, and their hazards minimized.
Do not enter an area with a sign that warns against unauthorized entry or says Keep Out, unless specifically authorized to do so by the principal investigator (PI) who controls the space or the Department Safety Coordinator (DSC) or Department Safety Officer. Hazardous materials and equipment will be secured or removed from the area before service or construction personnel begin work.
Biohazard signs feature the biohazard symbol (black on orange is common) to indicate the use of infectious agents. These are generally well-contained, and researchers are trained to disinfect work areas after use.
BSL signs posted at a facility entrance specify the biosafety level (BSL) of precautions observed within. A facility may be BSL 1, 2 or 3, with 3 being the highest level of precautions. BSL 3 labs are rare at UCSD.
Unauthorized entry into BSL 3 labs is prohibited.


Carcinogen signs indicate the use of known human carcinogens. These are generally well-contained. Researchers are trained to carefully identify where carcinogens are being used and to decontaminate work areas after their use.

Hazardous waste signs identify collection areas for hazardous wastes.
Treat hazardous waste containers with the same caution used for other stored chemicals and hazardous materials.
High voltage signs signal a sustained voltage of more than 600 volts.
High voltage systems may be accessed only by a qualified electrician.

Laser signs indicate the presence of high energy laser equipment.
Unauthorized entry is prohibited.
Appropriate eye protection may be required.
Magnetic field signs designate facilities housing large research magnets that create a powerful static magnetic field.
Unauthorized entry is prohibited.
People with cardiac pacemakers or other implanted medical devices should keep out. Check with your physician if you have questions about working in the vicinity of powerful magnets.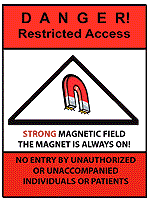 Radiation signs indicate that the room contains certain quantities of radioactive material.
All labs are regularly checked by laboratory staff and Environment, Health & Safety (EH&S) to make sure they are not contaminated.

Clearance tags communicate whether a vacated research facility has or has not been cleared for entry. (When a research group vacates a laboratory, EH&S performs a clearance survey to ensure hazards are not left behind.)
A red clearance tag indicates EH&S has begun clearance procedures in the facility. A red tag means it is safe for custodians to enter and empty regular trash, but not for trades employees to begin work.


A red clearance tag indicates clearance procedures are in progress.

A green clearance tag, posted after hazards are removed, indicates the facility is safe for trades employees to enter and begin work.

Green clearance tags are also used on decontaminated equipment.


EH&S posts a green clearance tag when a facility or equipment is cleared of known hazards.

Report hidden hazards discovered after work begins (such as broken glass, needles, or small amounts of mercury metal in drain traps) to your supervisor or the responsible Department Safety Coordinator (DSC). Do not resume work until the hazard has been corrected.