UC San Diego Travel & Entertainment Card
Last Updated: July 9, 2020 10:34:04 AM PDT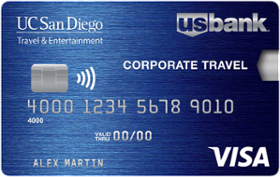 Find resources for the Travel & Entertainment Card
As of July 9th, 2020, all Travel & Entertainment Card Processes are now hosted in
Concur
. Please visit our
Knowledge Base Articles
in Services and Support for how-tos for these processes.
For event-related payments departments should use the event host/coordinator's Travel & Entertainment Card or Concur for on campus events.  
Notice:
UC San Diego travel policy, as published in Blink, is decisive. It has been adapted to UC San Diego's organization, delegation of authority, terminology, chart of accounts and processing applications. The source for UC San Diego travel policy is
UC Travel Policy and Regulations
 (PDF).