Dual Use Research of Concern (DURC)
Dual Use Research of Concern (DURC)
Last Updated: September 14, 2021 3:21:53 PM PDT
Learn about Dual Use Research of Concern (DURC).
Dual Use Research of Concern is life sciences research that, based on current understanding, can be reasonably anticipated to provide knowledge, information, products, or technologies that could be directly misapplied to pose a significant threat, with broad potential consequences, to public health and safety, agricultural crops and other plants, animals, the environment, materiel, or national security.
The United States Government has published several policies relevant to Dual Use Research of Concern, with the intention of raising awareness and limiting the potential for misuse of scientific information derived from life sciences research.
Research with one or more of the fifteen DURC agents and/or toxins (see below under DURC Agents) currently listed in the US Government DURC Policy (PDF) and which produces, aims to produce or can be reasonably anticipated to produce one or more of the 7 experimental effects of concern (see below under DURC Experimental Effects of Concern) listed in the Policy must be evaluated by the UCSD Institutional Review Entity (IRE) for its DURC potential. PIs must notify the Institutional Contact for Dual Use Research that they are using DURC agents through the Biohazard Use Authorization program. See PI Responsibilities.
Review and oversight of DURC are outlined in the University of California policy on DURC (PDF).
Agents and toxins specified by the U.S. Government as governed by its DURC policy. The below list of agents and toxins will be subject to revision to reflect future changes in federal DURC policy, but as currently defined, the following 15 agents and toxins, in any quantity, are governed by federal and University policy on DURC:
Avian influenza virus (highly pathogenic)
Bacillus anthracis
Botulinum neurotoxin (For purposes of this Policy, there are no exempt quantities of botulinum neurotoxin. Research involving any quantity of botulinum neurotoxin should be evaluated for DURC potential.)
Burkholderia mallei
Burkholderia pseudomallei
Ebola virus
Foot-and-mouth disease virus
Francisella tularensis
Marburg virus
Reconstructed 1918 Influenza virus
Rinderpest virus
Toxin-producing strains of Clostridium botulinum
Variola major virus
Variola minor virus
Yersinia pestis
Enhances the harmful consequences of the agent or toxin.
Disrupts immunity or effectiveness of an immunization against the agent or toxin, without clinical and/or agricultural justification.
Confers to the agent or toxin resistance to clinically and/or agriculturally useful prophylactic or therapeutic interventions against that agent or toxin or facilitates their ability to evade detection methodologies.
Increases the stability, transmissibility or the ability to disseminate the agent or toxin.
Alters the host range or tropism of the agent or toxin.
Enhances the susceptibility of a host population to the agent or toxin.
Generates or reconstitutes an eradicated or extinct agent or toxin listed in the definition of DURC Agents.
UC San Diego's Vice Chancellor for Research has designated Angela McMahill, Executive Director, Research Compliance and Integrity, to serve as UC San Diego's internal resource for issues regarding compliance with and implementation of the requirements for oversight of Dual Use Research of Concern (DURC) as well as the liaison between the University and the relevant Federal funding agencies. 
For guidance or assistance with DURC related matters, please email Angela McMahill at amcmahill@ucsd.edu.
Initial review
If the IRE determines the research meets the definition of DURC, it will promptly so notify the PI and within 30 calendar days, the applicable US Funding Agency, and shall proceed to develop a Risk Mitigation Plan. This process is outlined in detail in the UC DURC policy (PDF). Upon approval of the draft Plan by the U.S. Funding Agency, the IRE will present the final Risk Mitigation Plan to the PI and the ICDUR will collaborate with the PI to ensure its implementation.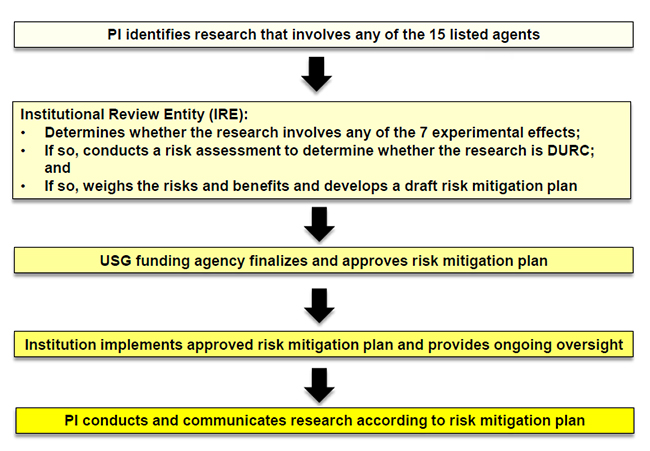 Continuing research
For research determined to be DURC, the IRE shall review, at least annually, all active Risk Mitigation Plans at the University. The IRE, working with the PI, shall modify the applicable Risk Mitigation Plan as needed to ensure that the Plan still adequately mitigates the risks associated with the DURC.
Identification of research as DURC has no direct bearing on whether or not an export license is required. However, certain risk mitigation measures (e.g., the imposition or acceptance of restrictions on publication) MAY affect whether the research is subject to the Export Control Regulations such as the Commerce Export Administration Regulations (EAR) or the State International Traffic in Arms Regulations (ITAR). Export Control will advise researchers on any export licensing obligations, required control plans and file export license applications related to research identified as DURC.
Under certain circumstances, the International Traffic in Arms Regulations (ITAR) may apply to DURC items (including materials and information). For information on these controls, see Title 22, Code of Federal Regulations, Parts 120 through 130 (ITAR) - including but not limited to: Part 121.1 Category XIV "Toxicological Agents, Including Chemical
Agents, Biological Agents and Associated Equipment," and, Part 120.11 "Public Domain." See https://www.pmddtc.state.gov/ under "Regulations", United States Munitions List and definitions. Note that the order of precedence for export controls first requires a determination of whether an item is ITAR-controlled. If it is not ITAR-controlled, DURC may be subject to the Commerce Export Administration Regulations (EAR). Export Control will work with the researchers to determine jurisdiction between ITAR and EAR and identify licensing requirements.
Export licenses are required for any exports of DURC Agents and in certain cases export licenses may be required for foreign person access to confidential, proprietary or information restricted from publication. The fifteen agents listed in the USG DURC Oversight policies are all included in Category 1 of the Commerce Control List (For the complete list, see Part 774 of the EAR available under the "Regulations" tab on the Bureau of Industry and Security homepage at www.bis.doc.gov.) Licensing takes a minimum of 6 weeks and must be in place prior to export.
Federal DURC policy requires that where elements of a potential DURC project are being carried out at multiple institutions through a subaward with a primary institution that directly receives the grant or contract from the U.S. Funding Agency, (the "Prime Institution"), the Prime Institution will be responsible for notifying the applicable U.S. Funding Agency of research that may constitute DURC and if such research is determined to be DURC, providing copies of each institution's Risk Mitigation Plan. The Prime Institution should also ensure that DURC oversight is consistently applied by all entities participating in the collaboration. If the Prime Institution's procedures or standards are less rigorous than the subawardee's, the more rigorous standard will be applied.