Download the 2015 9th Annual Asian and Pacific Islander Heritage Celebration Events Flyer (PDF).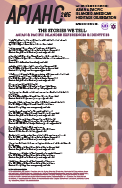 Friday, April 24
Body/Mind Justice: The Art & Practice of Disability Justice
Lambda Award winning writer Leah Lakshmi Piepzna-Samarasinha will interact with participants to learn, share and co-create the strategies creating disability justice movement- movements for disability justice and liberation that center Black, Indigenous, People of Color, low income folks, prisoners, sex workers, queer and trans folks and others who are marginalized within mainstream disability rights movements. Leah will present clips of artwork and performance from Sins Invalid and other disabled perfomers of color, talk about art and performance as a means of advancing disability justice, and share concerete tips for building accessible, liberatory events, movements and communities.
5P
Cross-Cultural Center Communidad
Wednesday, April 29
"Vietnamese of Orange County" Book Launch & Exhibit
This exhibit showcases the diversity of the Vietnamese American community through snapshots of Vietnamese life in Orange County over the span of 40 years, presenting a dynamic, vibrant community that is revitalizing the region. Co-curators Tram Le, Dr. Linda Vo, and Dr. Thuy Vo Dang have published a photo-history book synchronized with this exhibition. 
Friday, May 1
9th Annual Asian and Pacific Islander American Heritage Celebration Kick-Off

Join us for our launch at lunch featuring guest speaker Dr. Eleanor Concepcion "Connie" Mariano and student cultural presentations.
Wednesday, May 6
Latin@ and FIlipin@ United Farmworkers Movement 101
Presentation regarding this historic movement.
"Life Support: Biocapital & the New History of Outsourced Labor" Book Launch
Book presentation by Dr. Kalindi Vora (UCSD Ethnic Studies).
Friday, May 8
Money Lei-Making Workshop (RSVP only)
Learn to make a simple money lei using dollar bills folded into a carnation, other dollar bill flowers, and a small double carnation lei example.
Thursday, May 14
"Arab American Studies within Asian American Studies" w/ Dr. Rabab Abdulhadi
Friday, May 15
Comedy of Color: A Screening of Fresh Off the Boat and Black-ish
Wednesday, May 20
"Native Space & America" w/ Dr. Natchee Blu Barnd
"Asian America: Sociological and Interdisciplinary Approaches" Book Talk w/ Dr. Robyn Rodriguez
12:30-2:30P
Cross-Cultural Center
Tuesday, May 20
"State of Asia America: Empire, Romance, & Haunting"
Graduate student panel with Anthony Kim (Literature), Thủy Linh Nguyễn (Ethnic Studies), & Davorn Sisavath (Ethnic Studies).
Wednesday, May 21
Queer Asian & Pacific Islander Dialogue
Build community with other LGBT API identified students, staff, and facutly.
Tuesday, May 27
Dialogue on Asian Parenting and Asian American Children with Windi Sasaki
6-8P
Cross-Cultural Center
Wednesday, May 28
The "Other" Students: Filipino Americans, Education, and Power
Co-editors Dina Maramba and Rick Bonus discuss their latest book, the first of its kind to focus specifically on Filipino Americans in education.
Thursday, May 29
"For the Yoga" Workshop w/ Mindy Tran
12-1P
Cross-Cultural Center
Monday, June 2
"Polynesian Panthers" Film Screening
Maori and other Pacific Islanders address racism, colonization, and capitalism influenced by the Black Panther Movement in the United States.