Download the 2014 8th Annual Asian and Pacific Islander Heritage Celebration Events Flyer.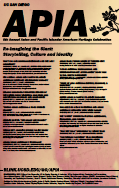 Thursday, April 24
That's So Gay: Microaggressions and the LGBT Community
Leading Researcher Dr. Kevin Nadal speaks on understanding the impacts of microagressions, or subtle forms of discrimination,on the mental and physical health of people of color in the LGBT community and other marginalized groups.
11:30A-1P
Huerta-Vera Cruz Room
Thursday, May 1
8th Annual Asian and Pacific Islander American Heritage Celebration Kick-Off
Join us for our launch at lunch featuring Thomas Hom, student cultural presentations, and community recognition.
Friday, May 2
Delano Manongs: Forgotten Heroes of the United Farm Workers. Coalition and Contention: Manongs and Compadres
Film and talk with Marissa Aroy and Dr. Gerardo Arellano
Friday, May 9
"Eating Asian America: A Food Studies Reader"
Book presentation by Dr. Rober Ji-Song Ku, Dr. Martin F. Manalansan IV, & Dr. Anita Mannur
Gender Buffet: "The Grace Lee Project"
A dialogue on the representation of Asian American women in media.
Sunday, May 11
Triton Int'l Leaders Spring Talent Show
Join the third annual spring talent showcase feat. int'l students from around the globe and other diverse acts from on-campus student orgs.
3:30P
Int'l Center Courtyard
Info: Website
Wednesday, May 14
Asian/Asian American Psychology
A panel by UCSD Counseling and Psychological Services (CAPS) on issues facing Asian American mental health. Will include Dr. Koko Nishi, Dr. Sam Park, & Dr. Sherry Shaw.
Thursday, May 15
Asian Food Fusion Mixer by Twisted Hutt
Seating limited to 50.
"Asian America: Sociological and Interdisciplinary Approaches" Book Talk w/ Dr. Robyn Rodriguez
12:30-2:30P
Cross-Cultural Center
Tuesday, May 20
"State of Asia America: Empire, Romance, & Haunting"
Graduate student panel with Anthony Kim (Literature), Thủy Linh Nguyễn (Ethnic Studies), & Davorn Sisavath (Ethnic Studies).
Wednesday, May 21
Queer Asian & Pacific Islander Dialogue
Build community with other LGBT API identified students, staff, and facutly.
Tuesday, May 27
Dialogue on Asian Parenting and Asian American Children with Windi Sasaki
6-8P
Cross-Cultural Center
Wednesday, May 28
The "Other" Students: Filipino Americans, Education, and Power
Co-editors Dina Maramba and Rick Bonus discuss their latest book, the first of its kind to focus specifically on Filipino Americans in education.
Thursday, May 29
"For the Yoga" Workshop w/ Mindy Tran
12-1P
Cross-Cultural Center
Monday, June 2
"Polynesian Panthers" Film Screening
Maori and other Pacific Islanders address racism, colonization, and capitalism influenced by the Black Panther Movement in the United States.