Moving Services requests can now be submitted via the Logistics Portal!
The portal is a one-stop-shop for all Logistics services.
To request Moving Service
Login to the Logistics Portal: https://logistics.ucsd.edu
Select Single Sign-On from the login screen to login via your SSO
Look for the 'Logistics Request Form' icon (pictured right)
Click on the icon to access all Logistics forms
Select Moving Service and fill out the required fields
Note: once you submit your form, you will receive a confirmation with documentation for your service.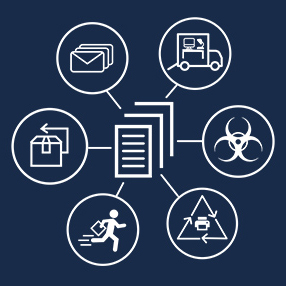 UC San Diego Moving Services:
Coordinates and performs relocation services of office furniture and lab equipment
Removes and disposes of excess furniture or lab equipment

Relocates excess furniture, materials or lab equipment to Surplus Sales

Provides uncrating and set up services of large lab equipment and furniture
Assembles free-standing and modular furniture
Provides flags and podiums for UC San Diego events
Provides official off campus relocation services
Remember: All laboratory equipment must be cleared by Environment, Health & Safety and tagged prior to Moving Services handling the equipment. Contact the Environment, Health, and Safety Office Research Assistance Program (RAP) specialist assigned to your area.
Note: Surplus Sales will not accept delivery of material without a completed Surplus Transfer Request (STR).
*If you need to completely relocate a UC San Diego Office, please review this checklist. 
*If you need to close or relocate a UC San Diego Laboratory, please review this checklist.
For Academic and Staff household moves and relocations, see Overview: Move/Transfer Expenses.