César E. Chávez Celebration Calendar
César E. Chávez Celebration Calendar
Last Updated: April 30, 2021 1:17:21 PM PDT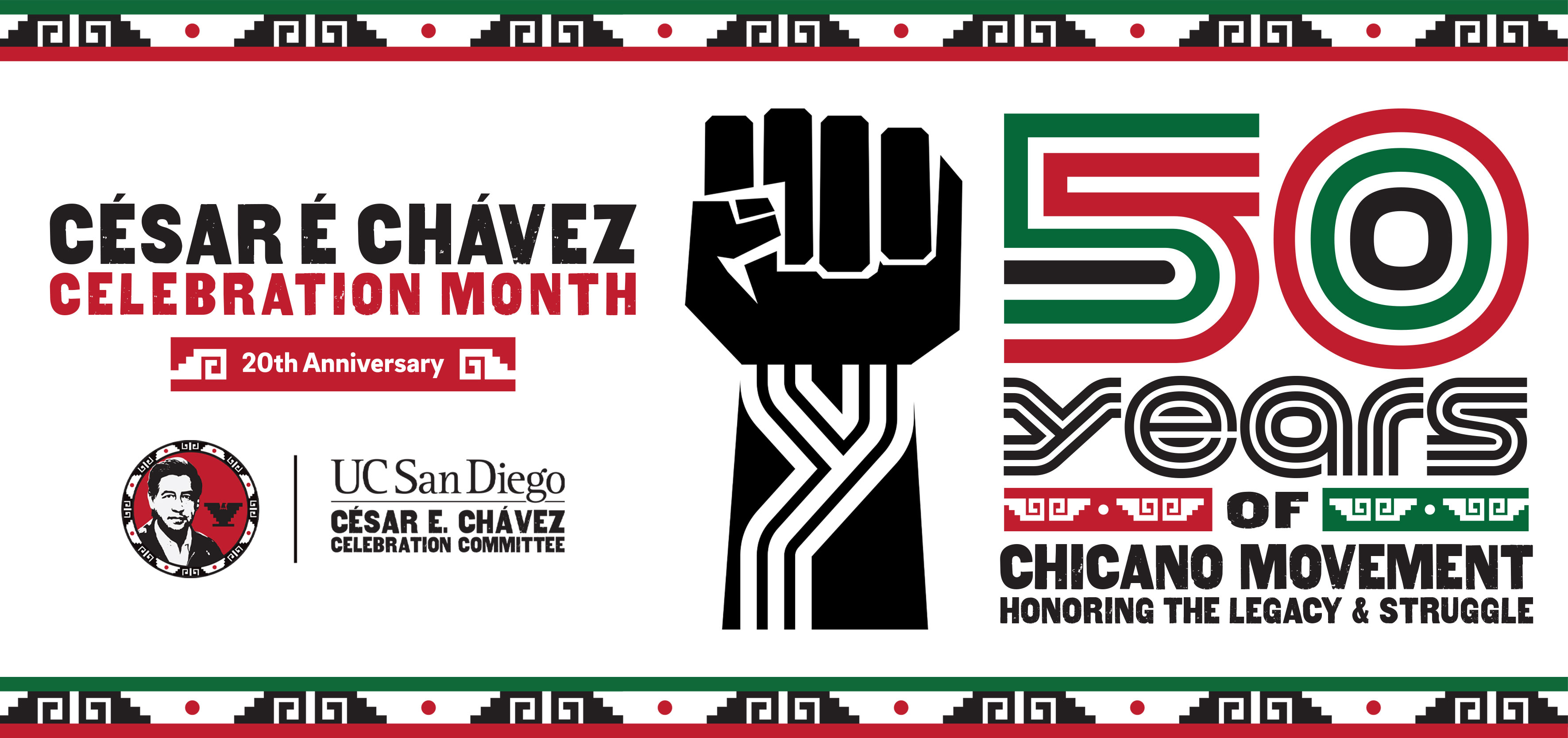 Join us in celebrating the 20th anniversary of UC San Diego's César E. Chávez Celebration month. Below is a list of the events that highlight this year's theme "50 Years of Chicano Movement: Honoring the Legacy & Struggle".
César E. Chávez (born César Estrada Chávez, March 31, 1927 – April 23, 1993) was an American farm worker, labor leader and civil rights activist, who, with Dolores Huerta, co-founded the National Farm Workers Association (later the United Farm Workers union, UFW). President Barack Obama proclaimed March 31 as César E. Chávez Day in the United States, with Americans being urged to observe this day with appropriate service, community, and educational programs to honor César E. Chávez's enduring legacy of nonviolent social change and service to others. 
To learn more about Cesar Chavez and the Chicano Movement please visit the UC San Diego
virtual exhibit
.
You are invited to a midday tertulia on
Tuesday, March 30, at Noon via Facebook Live that will focus on innovative ideas for applying advanced technology across the major fields of study based on César's values and beliefs. Arias is the author of the book, Theorizing César Chávez: New Ways of Knowing STEM.
Date: March 30, 2021
Time: 12pm
Location: Facebook Live
There's the historical César, the renowned farmworker union leader, and then there's the visionary, the social scientist (with an honorary PhD), and the teacher who can help crack the code for reaching our Chicano and Latino youth to advance and excel in their schoolwork.
Arias states: "I want to be creative about keeping Cesar's spirit alive. I am not a historian, nor do I want to present Cesar's story from a historical perspective. I will be presenting Cesar's ideas that helped: Initiate high-tech projects, Social change that addresses injustices, Futuristic international relationships. Cesar's spirit will remain vibrant, especially to Latino youth, only if we approach the goal from new angles that will attract every generation to come; while this is not an easy task, we can all see the need for it."
Have questions prepared or use the Chat function to share questions or thoughts. Dr. Arias will answer as many questions as time allows.
Sponsored by the Somos en escrito Literary Foundation's Magazine and Press in conjunction with the Colegio Chicano del Pueblo, a program directed by the MeXicanos 2070 organization.
To learn more please visit Re-engineering Everything - Through the eyes of César Chávez or this Triton Magazine article.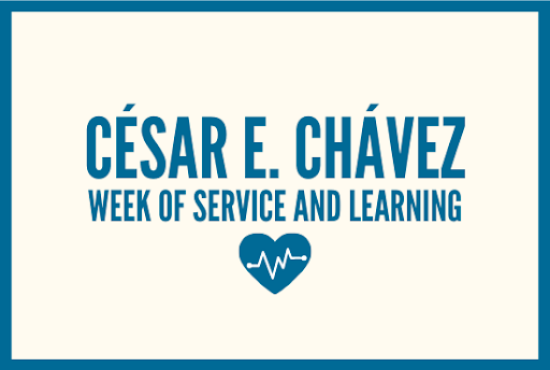 César E. Chávez Week of Service and Learning is a showcase of organizations supporting Latinx and underrepresented student groups, ways to take action to address the COVID-19 pandemic, and resources related to vaccine equity for Latinx populations and local farmworkers.
This Week of Service celebrates two of the core values of the United Farm Workers: Celebrating Community and Service to Others. Opportunities will be open on March 31st through the month of April.
Learn more at Get Involved UCSD.
Contact: Andy Hoffman, Center for Student Involvement
In celebration of UC San Diego's César E. Chávez month-long celebration, the Triton Food Pantry will be providing a variety of Latinx items for students throughout the month of April. You can schedule a pick up at either location here. To view some of the items and stay up to date with what the pantry offers, follow them on social media @tritonfoodpantry 
Location: UC San Diego Triton Food Pantry
Contact: foodpantry@ucsd.edu
For more information visit: Basic Needs UCSD or CalFresh Application Support.
Follow basic needs on social media @ucsdbasicneeds
Join the Women's Center on April 1st at 5pm for our closing event for Women's Herstory Month. We will be hosting Yesika Salgado for a virtual open mic night! We invite students to share their own spoken word pieces. Interested in performing? Please reach out to Jessica Martinez at jem132@ucsd.edu. Event information will be listed at the Women's Center website. 
Date: Thursday, April, 1, 2021
Time: 5:00 p.m. - 6:00 p.m.
Location: Virtual platform
REGISTER: UCSD Women Center.
Contact: Jessica Martinez, Women's Center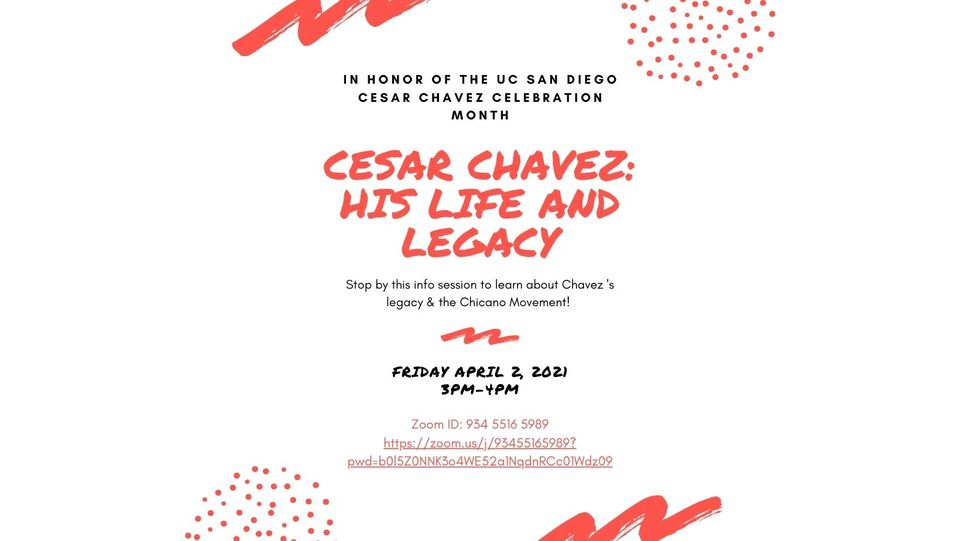 Join us for an info session and discussion and learn more about the Chicano movement and Cesar Chavez, with clips from movies and footage of Cesar Chavez. One lucky student can win an Amazon gift card!
Time: 3:00 p.m. - 4:00 p.m.
Location: Virtual platform
 Register for Cesar Chavez: His Life and Legacy via this Facebook Event.
Contact: Mario Garibay, Muir College Student Affairs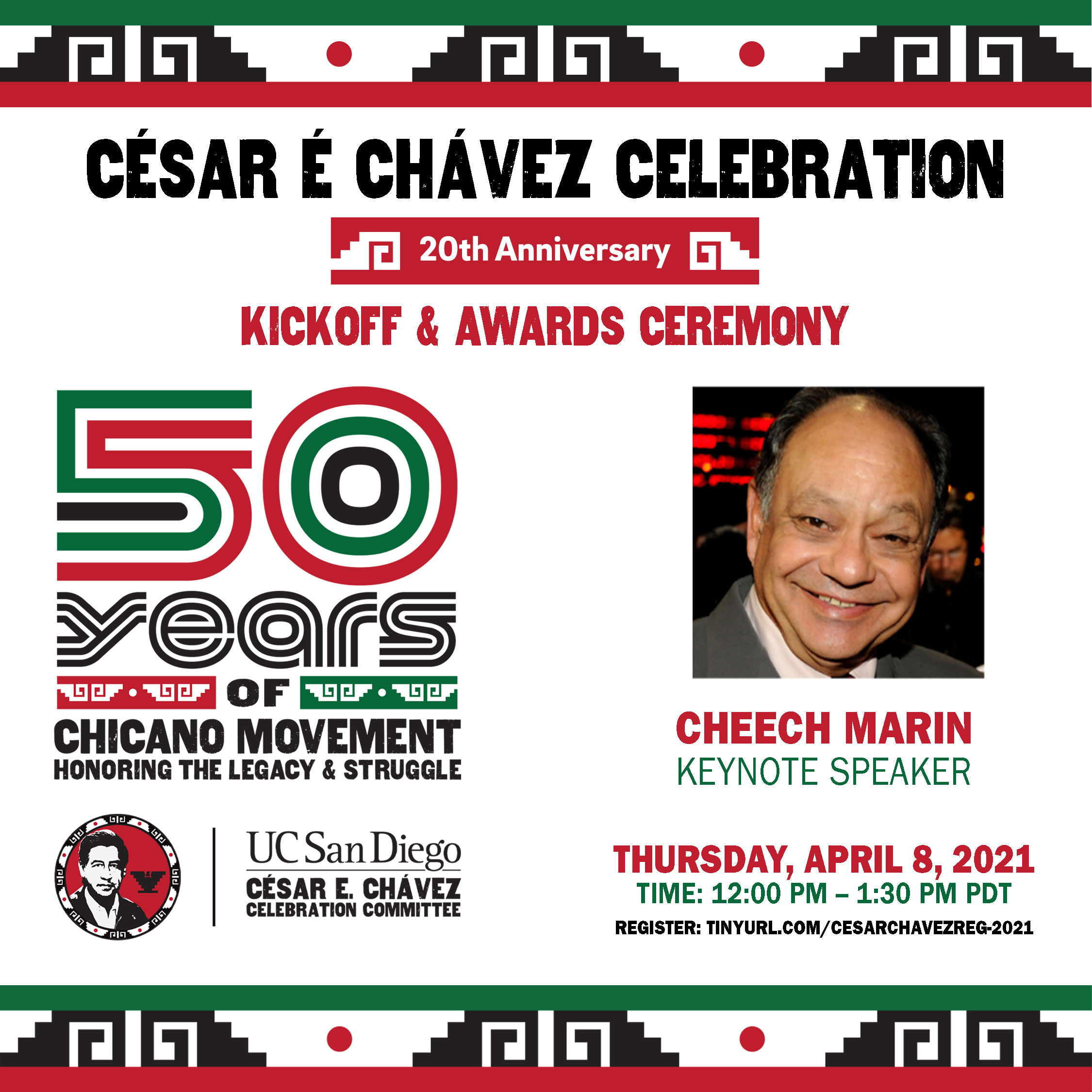 Join us for UC San Diego's 20th Annual César E. Chávez Celebration Kickoff and Awards Ceremony. This FREE virtual event will kick off a month-long celebration featuring our theme, 50 years of the Chicano Movement: The Legacy and Struggle. Our keynote speaker for this year is actor, comedian, and activist, Cheech Marin. Join us for a conversation with Cheech on his collection of Chicano art, the world of comedy and film, his activism, and the Cheech Marin Center for Chicano Art & Culture.
Time: 12:00 p.m. - 1:30 p.m.
Location: Virtual platform
REGISTER: Zoom.
Contact: Maddy Agamata, Office of Equity, Diversity and Inclusion
In celebration of the life and achievements of César E. Chávez and in conjunction with the California State holiday, UC San Diego celebrates the month of April to honor the legacy of César E. Chávez. This year marks the 20th anniversary of UC San Diego's community celebration of the life and achievements of César E. Chávez. A community organizer and civil rights activist, Chávez championed the rights of farm workers and civil liberties for Mexicans and Mexican Americans. The month-long celebration features numerous free virtual programs centered on the theme, "50 Years of the Chicano Movement: Honoring the Legacy and Struggle" and upholds a vibrant tradition of activism, cultural heritage, and social justice. Join us for a discussion on how UC San Diego Honors César E. Chávez through Art, Activism and Culture. 
Featured Panelist: 
Philomena Lopez, doctoral student in the Art History, Theory, and Criticism program at UC San Diego, with a specialization in Latin American and Chicano art 
UC San Diego Alum, Dr. Albert Pulido and Lucas Cruz, Chicano Park Steering Committee and Chicano Park Museum & Cultural Center Board Members
For more information, please visit 
Triton Tools & Tidbits.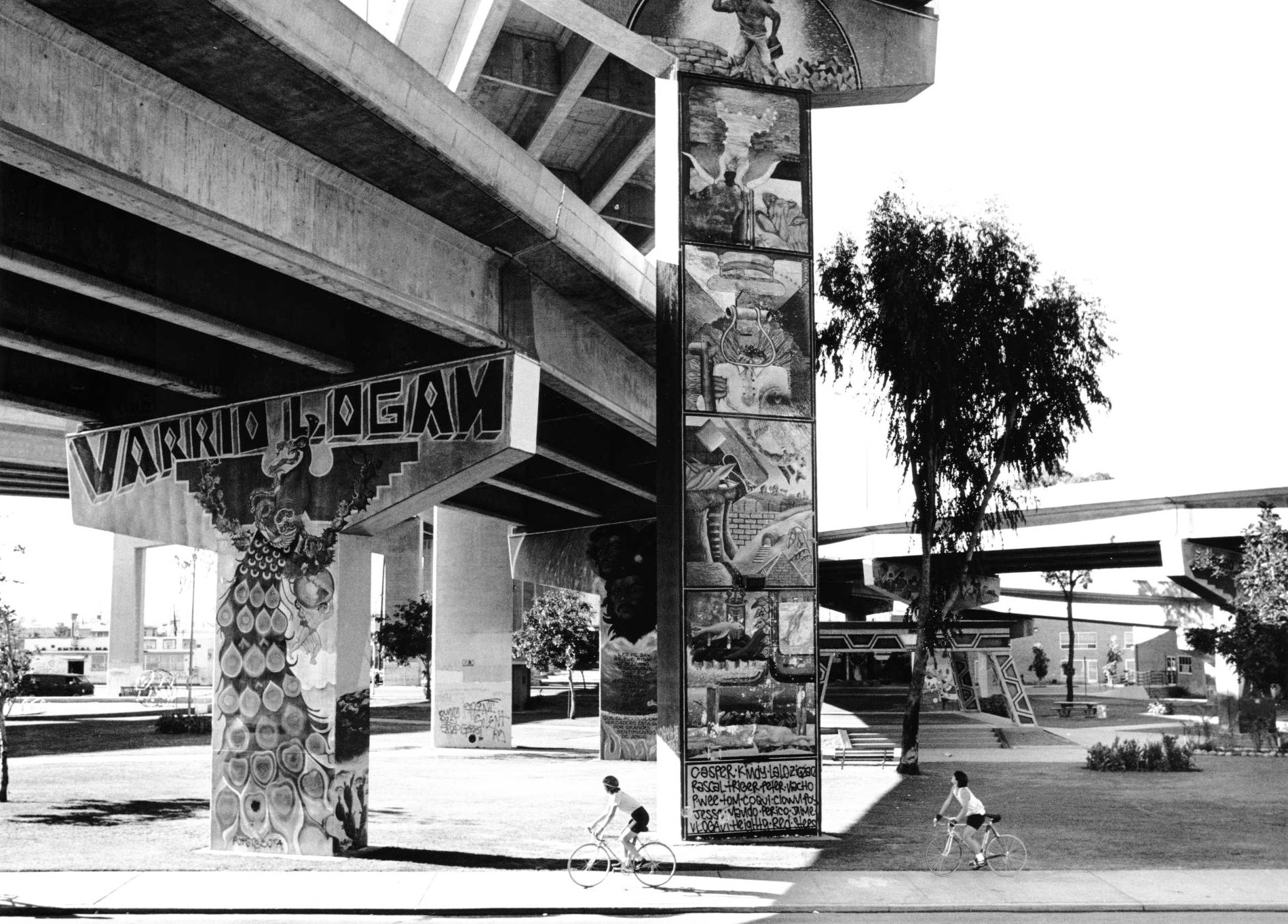 The theme for this year's virtual Chicano Park Day is Chicano Park 51: "Healing Our Past, Educating the Present, Leading into our Future" and will highlight many aspects of the park including the most recent murals, lowriding, Kumeyaay land acknowledgement, danza Azteca, sister parks (Lincoln Park, Ortega Park, Barrio Unidos Park, La Raza Park) and other topics. The week-long commemoration will conclude with a community cleanup on April 25. 
For more information, please visit Chicano Park.
Connect with Chicano Park via
Facebook,
Instagram,
and 
YouTube
.
This afternoon platica will put in conversation artists and cultural producers as they discuss the significance of rematerializing history through the archival process of gathering historical materials, creating untold stories, and preserving collective narratives. 
Bob Dominguez, Thalia Gochez, Paulina Lara, and Gabriella Sanchez will discuss the significance of archives, documentation, and storytelling to their respective practices and work.
Contact: Philomena Lopez, Visual Arts Department/ Raza Resource Centro/ Graduate Division
DOWNLOAD your branded Zoom background and help us promote the Kickoff and Awards Ceremony.