Material Support Services
Material Support Services (MSS)
Last Updated: January 3, 2022 12:54:51 PM PST
What we do

Material Support Services (MSS) provides services that support the handling and movement of material for the UCSD campus, including receipt and redistribution of incoming packages,  office/lab moves,  long or short term storage of material, shipment of  packages (hazardous and nonhazardous) and initiates the sale of used material/ equipment. In addition, we offer specialty products through our "Store" that take care of unique material needs for the campus.
New Contact Information:
Office / STORE: (858) 534-5650
Receiving & Distribution: (858) 534-6238
Moving Services: (858) 534-5321
Outbound Shipping: (858) 534-5737
Surplus Sales: (858) 534-2844
Material Handling Services:  
Moving Services (Office/Lab moves, uncrating and furniture installation)
Receiving and Distribution of incoming material
Self-Store (Long and short term storage of material)
Shipping Services (Shipment of Hazardous and Non hazardous material- Domestic and Foreign)
Surplus sales (Sale and purchase of used material and equipment)
STORE- "Specialty Products"    
Alcohol  (Approval/Ordering of Alcohol)
Nestle Water Program (Order water service)
Gas Cylinders (Ordering, renting and delivery of gas cylinders)
Request a Package Pickup for:
Package Pickup requests can now be submitted via the Logistics Portal!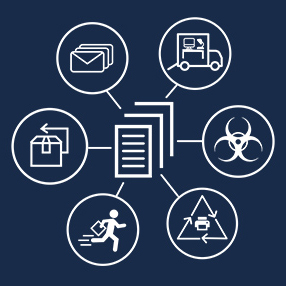 The portal is a one-stop-shop for all Logistics services.
The Logistics Portal requires a secure, VPN connection to access if not utilizing campus protected wireless or a campus ethernet connection. Click here (https://blink.ucsd.edu/technology/network/connections/off-campus/VPN/) to learn more about VPN.
To request a Package Pickup
Login to the Logistics Portal: https://logistics.ucsd.edu
Select Single Sign-On from the login screen to login via your SSO
Look for the 'Logistics Request Form' icon (pictured right)
Click on the icon to access all Logistics forms
Select Package Pickup and fill out the required fields
Note: once you submit your form, you will receive a confirmation with documentation for your service.
Damaged package
Empty gas cylinder or a customer owned cylinder for refill
Empty toner cartridge for recycling
Package delivered to wrong location
Return items ordered through marketplace
Return a package to an outside vendor
Shipping package (hazardous and nonhazardous)
News & information
MSS's fleet of delivery trucks are 100% "Green" and powered with CNG vehicles!
About us
Mailing Address
Material Support Services
7835 Trade Street Suite 100
San Diego, CA 92121
(map)
New Contact Information:
Office / STORE: (858) 534-5650
Receiving & Distribution: (858) 534-6238
Moving Services: (858) 534-5321
Outbound Shipping: (858) 534-5737
Surplus Sales: (858) 534-2844