Mail Services
Last Updated: November 19, 2020 11:36:20 AM PST
What we do
Integrated Procure-to-Pay Solutions (IPPS) – Count on us!
In Mail Services, our mission is to provide the most efficient and highest quality delivery, collection and processing of University mail. Our customers are our priority.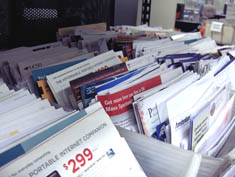 Mail Services is responsible for processing incoming, outgoing, intra-campus, and student mail for UCSD. Find out everything you need to know about mail services, including campus mail codes, where to buy stamps and find collection boxes, mail safety, tracking incoming mail, domestic and international mail standards and procedures.
Featured services
Did you know?
Customized ShipIt and SHIPS Training Available At Your Convenience
In order to meet the specific needs of your area, we offer customized training on how to leverage these software applications at your location. Please contact Desktop Shipping Administrator through Services & Support for more information.