All inventorial equipment at UCSD, no matter who has title to it, has an identification tag affixed to it. Printed on the tag is a barcode, a brief description of the equipment, and the equipment's UCID number.
UCID number
The UCID number is a nine-digit number that, when broken down, identifies the following:
First pair of digits indicates the calendar year the equipment was acquired.
Second pair of digits identifies the campus that originally acquired the equipment.
Last five digits designate the sequential placement of the equipment in CAMS.
Government tag
If the government has title to the inventorial equipment, the equipment will also have a government tag. This tag looks the same as the UCID tag, but has "GOVT PROPERTY" printed in place of the equipment description.
How to get tags
What to do with the tags
When Equipment Management mails you the tags stapled to an Asset Locator Report, you must:
Verify that the information on the Asset Locator is correct. It is the department's responsibility to update the CAMS record with additional information such as actual location, serial number, PI/custodian, etc.
Affix the tags to the front surface of the equipment so they can easily be seen.
Request duplicate or replacement tags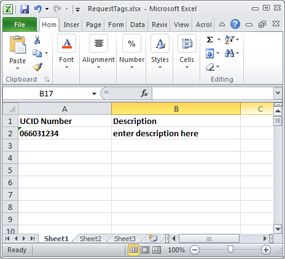 Email Equipment Management with the Subject of Request UCID Tags. Attach a simple Excel spreadsheet with two columns: the UCID number and the description. Download an example spreadsheet here. In the body of the email, indicate the name and mailcode of the person who should receive the tags.